Como ter um leitor biométrico no Android
562 total views, 4 views today
Atualmente as grandes fabricantes de smartphones estão colocando em seus novos modelos o sensor biométrico, que é muito útil para desbloquear o telefone, aplicativos e efetuar pagamentos como por exemplo pelo PayPal. Hoje iremos aprender a como ter este recurso de leitura biométrica sem um sensor, apenas utilizando a nossa câmera traseira do celular com sistema operacional Android, seja qual for o modelo ou versão.
Antes de tudo confira o processo por meio de uma vídeo aula.
Para começar vamos precisar de uma aplicação instalada em seu dispositivo Android, a aplicação se chama ICE Unlock Fingerprint (clique no nome dele para efetuar o download).
Passo 1 – Abra o aplicativo e toque na opção "LIG" para ativar o recurso.
Passo 2 – Agora clique na primeira opção "ENROLL FINGERPRINT" para registar a sua digital, antes ele ira pedir para você criar um código PIN, caso ocorra um erro na leitura você poderá desbloquear através do mesmo.
Passo 3 – Chegaremos na parte de um guia, durante o processo você deve escolher um dedo a ser digitalizado e o lado da mão (direita ou esquerda), você deve deixar o dedo dentro da margem verde cobrindo tudo, deixando o dedo cerca de 7-10 centímetros longe da câmera, ele irá fazer um scanner 7 vez
Após isto já podemos sair da aplicação e testar tentando desbloquear o aparelho, para usa-lo basta posicionar o dedo sobre o local indicado, semelhante ao processo de configuração
Gostou desta publicação? compartilhe com os seus amigos!
Caso queira conhecer outras publicações do site role com o mouse para baixo.
FUNÇÃO DO NOVO ANDROID! Coloque os botões de navegação do ANDROID P em seu celular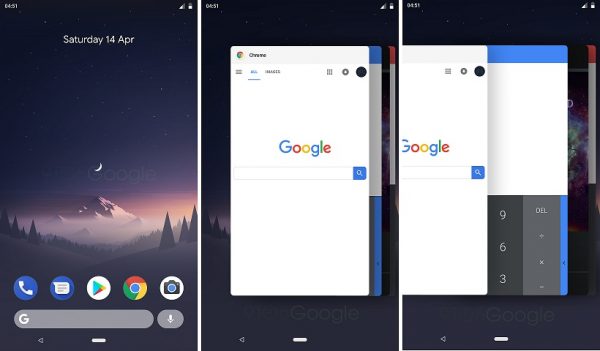 17,170 total views, 1,484 views today
O novo Android P veio com muitas animações interessantes em sua nova versão.
Uma dessas animações está nos seus botões de navegação, que veio diferente do que estamos acostumados a ver
em outros tipos de Android, que é a "setinha, bolinha e quadradinho (ou três riscos)". Mas neste artigo você vai aprender
a como adicionar os botões de navegação elegantes do Android P sem a necessidade de ter ROOT no dispositivo, apenas
usando seu PC para o feito. Lembrando que a função é PAGA, porém, vale a pena gastar uma graninha com um designer mais
atraente para seu dispositivo.
Vamos lá 😉
Passo 1: Você precisará baixar o app Custom Navigation Bar tocando no botão de download abaixo, e sem seguida (no seu PC) baixar a ferramenta ADB no link abaixo do botão de download:
Passo 2: No celular, vá até Configurações > Sobre o dispositivo > Toque em Número da Versão até que apareça "Não é necessário. Você é um desenvolvedor.". Ainda nas configurações vá até Opções do Desenvolvedor e marque a Depuração USB e volte para o aplicativo Custom Navigation Bar;
Abra o aplicativo e toque na seta amarela para avançar;
Escolha o método para utilizar o app, com ADB (PC), ROOT ou Xposed;
Neste caso escolha o Grant using PC;
Conecte seu Dispositivo via USB em seu PC.
Passo 3: Agora no PC, abra o instalador ADB-setup e quando abrir uma janela de comando AZUL, digite a letra "Y" e dê Enter em cada uma das frases, exemplo:
Do you want to install ADB and Fastboot? (Digite "Y" e dê enter)
Install ADB system-wide? (Digite "Y" e dê enter)
Do you want to install device drivers? (Digite "Y" e dê enter).
Passo 4: Agora, fora da pasta platform-tools juntamente com o botão Shift pressionado dê um clique com botão direito em cima da pasta e depois clique em "abrir uma janela de comando aqui"  e quando abrir a janela de comando, digite sem aspas "adb shell" e dê enter, veja seu celular e autorize a depuração USB dando OK:
Passo 5: Quando aparecer o modelo de seu dispositivo na janela de comando, copie o seguinte comando abaixo e cole na janela de comando apertando Enter em seguida:
pm grant xyz.paphonb.systemuituner android.permission.WRITE_SECURE_SETTINGS
No Celular
Passo 1: Já no aplicativo estará escrito "Safety First" é só tocar no botão Start, depois vai pedir para tocar no botão "next" que estará na sua barra de navegação e depois em "finish".
Passo 2: Vá até "Navigation Bar" e vá até "Theme" e escolha o tema do Android P e dê OK. Lembrando que para funcionar você precisa comprar a versão PRO que é bem baratinho, é só tocar em comprar, preencher seus dados e pronto:
Dica: Caso queira mudar o Layout dos ícones dos botões, é só tocar em Navigation Bar > Layout:
Gostou desta dica? Não se esqueça de comentar, compartilhar e me seguir lá no
Insta: @FabioRodriguesBarroso 😉