5 Melhores aplicativos grátis para gravar a tela do PC
16,664 total views, 22 views today
Se você quer gravar a tela do seu PC para enviar para seus amigos mostrando como fazer alguma coisa, ou trabalha com tutoriais ou até mesmo precisa de momento de alguma solução para filmar a tela do seu computador certamente encontrou alguns problemas para realizar essa tarefa, isso porque as ferramentas disponíveis no mercado em sua grande maioria são pagas, entretanto existem algumas excelentes ferramentas que queremos destaca-las em mais um artigo aqui do nosso site, confira nossa lista com os melhores softwares de gravação de tela para Windows de graça!
1 . Ezvid
Ezvid é um programa de gravação de tela que vem com um editor de vídeo incorporado,no qual você pode dividir gravações e adicionar textos entre dois clipes (apesar de não aconselhar que o faça..). O seu único ponto negativo é que não pode exportar o vídeo que gravou. No máximo, poderá fazer o upload para o Youtube. A app traz ainda algumas opções musicais para inserir nos seus vídeos caso pretenda.
Por última, o Ezvid permite adicionar a sua voz, outros vídeos e também imagens.
2. Rylstim Screen Recorder
Esta app é sinônimo de um gravador de tela bem simples. Basta clicar em start recording que ele começa a capturar a tela do seu ecrã. Porém, ele tem algumas limitações. Ele não grava o som do seu microfone, por exemplo.
As únicas configurações permitidas por esta app são os cliques do mouse. Interessante, mas bastante limitado.
3. CamStudio
Se a app anterior era limitada, este é completamente o contrário. A CamStudio permite adaptar de várias formas o modo como você regista os seus vídeos. Você pode ativar ou desativar o cursor do mouse, gravar sons com o microfone ou fazer anotações na tela.
Você pode, ainda, gravar uma parte da tela caso pretenda, de modo a que a restante área do seu ambiente de trabalho não apareça. Por último, poderá modificar também as Frames por Segundos com que grava o seu vídeo.
4. Webinaria
A Webinaria é mais uma opção bem simples para capturar a tela do seu ecrã. Ela permite gravar a tela inteira, apenas uma parte ou uma simples janela, caso pretenda. Quanto às frames, a Webinaria dá três opções: 5, 10 ou 15 Frames por Segundo.
Os vídeos são gravados no formato AVI. Se você estiver usando o Google Chrome durante a gravação, o Webinaria, por defeito, deteta sempre o Google Chrome como a janela principal.
5. DVDVideoSoft Free Screen Video Recorder
Mais uma app bastante simples e a sua organização é bem fácil de ser compreendida. O aplicativo tem à sua disposição nove ícones. Os quatro primeiros têm como função a captura da tela, os quatro seguintes são para organizar a sua tela e o último ícone traz as principais definições. Também faz a exportação para o formato de AVI.
Outro ponto positivo desta app é que ela permite que você inclua, no nome do arquivo, a data e a hora específica que ele foi gravado. Esta é uma opção muito útil, principalmente porque facilita a organização dos seus vídeos.
6. Krut Recorder Computer
É o último desta lista mas não é por isso que deixa de ser uma boa opção. O Krut traz várias vantagens. A primeira de todas é que não necessita de Java para ser utilizado. O segundo é que ele permite a integração de som do seu microfone e imagem ao mesmo tempo.
A opção "Siga Mouse" também é bastante interessa. Com esta opção seleciona, a app grava apenas uma pequena área que esteja à volta do seu mouse, fazendo com que o resto do seu ambiente de trabalho não apareça. Para exportação, o Krut dá três opções. Duas em MOV (um só com audio e outro com audio e vídeo) e uma em WAV, que contém só áudio.
FUNÇÃO DO NOVO ANDROID! Coloque os botões de navegação do ANDROID P em seu celular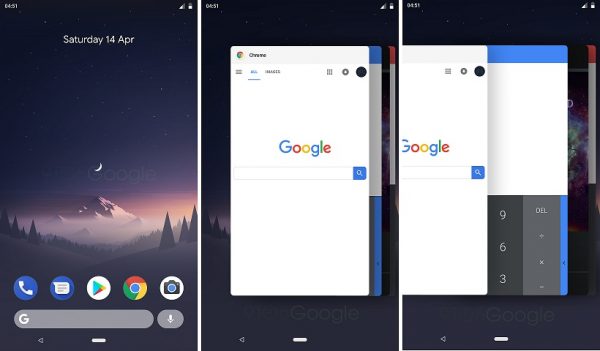 17,097 total views, 1,411 views today
O novo Android P veio com muitas animações interessantes em sua nova versão.
Uma dessas animações está nos seus botões de navegação, que veio diferente do que estamos acostumados a ver
em outros tipos de Android, que é a "setinha, bolinha e quadradinho (ou três riscos)". Mas neste artigo você vai aprender
a como adicionar os botões de navegação elegantes do Android P sem a necessidade de ter ROOT no dispositivo, apenas
usando seu PC para o feito. Lembrando que a função é PAGA, porém, vale a pena gastar uma graninha com um designer mais
atraente para seu dispositivo.
Vamos lá 😉
Passo 1: Você precisará baixar o app Custom Navigation Bar tocando no botão de download abaixo, e sem seguida (no seu PC) baixar a ferramenta ADB no link abaixo do botão de download:
Passo 2: No celular, vá até Configurações > Sobre o dispositivo > Toque em Número da Versão até que apareça "Não é necessário. Você é um desenvolvedor.". Ainda nas configurações vá até Opções do Desenvolvedor e marque a Depuração USB e volte para o aplicativo Custom Navigation Bar;
Abra o aplicativo e toque na seta amarela para avançar;
Escolha o método para utilizar o app, com ADB (PC), ROOT ou Xposed;
Neste caso escolha o Grant using PC;
Conecte seu Dispositivo via USB em seu PC.
Passo 3: Agora no PC, abra o instalador ADB-setup e quando abrir uma janela de comando AZUL, digite a letra "Y" e dê Enter em cada uma das frases, exemplo:
Do you want to install ADB and Fastboot? (Digite "Y" e dê enter)
Install ADB system-wide? (Digite "Y" e dê enter)
Do you want to install device drivers? (Digite "Y" e dê enter).
Passo 4: Agora, fora da pasta platform-tools juntamente com o botão Shift pressionado dê um clique com botão direito em cima da pasta e depois clique em "abrir uma janela de comando aqui"  e quando abrir a janela de comando, digite sem aspas "adb shell" e dê enter, veja seu celular e autorize a depuração USB dando OK:
Passo 5: Quando aparecer o modelo de seu dispositivo na janela de comando, copie o seguinte comando abaixo e cole na janela de comando apertando Enter em seguida:
pm grant xyz.paphonb.systemuituner android.permission.WRITE_SECURE_SETTINGS
No Celular
Passo 1: Já no aplicativo estará escrito "Safety First" é só tocar no botão Start, depois vai pedir para tocar no botão "next" que estará na sua barra de navegação e depois em "finish".
Passo 2: Vá até "Navigation Bar" e vá até "Theme" e escolha o tema do Android P e dê OK. Lembrando que para funcionar você precisa comprar a versão PRO que é bem baratinho, é só tocar em comprar, preencher seus dados e pronto:
Dica: Caso queira mudar o Layout dos ícones dos botões, é só tocar em Navigation Bar > Layout:
Gostou desta dica? Não se esqueça de comentar, compartilhar e me seguir lá no
Insta: @FabioRodriguesBarroso 😉