Agora é oficial! App da CNH Digital é liberada para Android e iOS
31,432 total views, 32 views today
O sonho de todo brasileiro, era ter uma carteira nacional de habilitação (CNH) digital, no seu próprio celular.
E até que enfim, este sonho se tornou realidade, mas limitado apenas em alguns estados.
O app CNH Digital foi oficializado e pode ser utilizado por quase qualquer motorista com uma CNH mais recente.
Até o momento, só o pessoal de Goiás e do Distrito Federal está incluso nessa fase inicial do programa do Denatran. Em breve, o serviço deve ser disponibilizado para o restante do país. A expectativa é que "até 1º de fevereiro de 2018, todos os Detrans dos 27 estados devam estar aptos a emitir a versão da CNH Digital".
A CNH-e (ou CNH Digital) permite dispensar de vez o documento físico, ficando armazenada de forma segura no seu smartphone e tendo a mesma validade legal do bom e velho item de papel.
E como me preparo para fazer a troca?
Passo 1 – Você precisa ter a versão mais nova da CNH tradicional, com código QR. Caso você ainda não tenha, dá para solicitar uma 2ª via do documento junto ao Detran do seu estado, pagando uma pequena taxa (R$ 95) pela operação.
Passo 2 – Basta se cadastrar no portal de serviços do Denatran, confirmar seus dados junto a uma agência do Detran e, aí sim, usar um código de ativação para liberar o uso do aplicativo como carteira de motorista oficial.
O app já pode ser baixado tanto na Google Play Store quanto na Apple. Vale notar que, como o documento fica vinculado a apenas um dispositivo, é necessário bloquear o código do aparelho anterior e solicitar um novo para que os dados da sua CNH Digital possam ser migrados para outro smartphone.
Para os que moram fora do Distrito Federal e Goiás, cabe a nós esperarmos os demais estados serem liberados para a utilização do app.
Gostou desse artigo? Compartilhe com seus amigos e também nas Redes abaixo. Ah, não se esqueça de comentar 😉
Conheça meu canal clicando AQUI!
FUNÇÃO DO NOVO ANDROID! Coloque os botões de navegação do ANDROID P em seu celular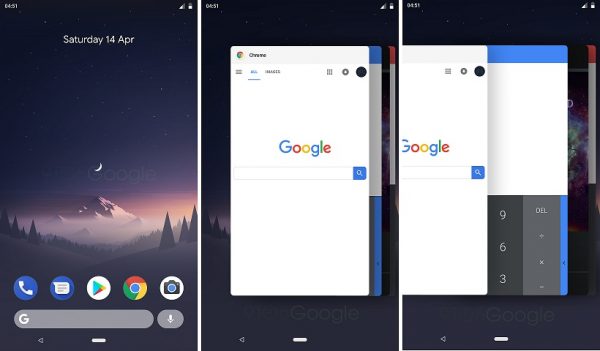 17,164 total views, 1,478 views today
O novo Android P veio com muitas animações interessantes em sua nova versão.
Uma dessas animações está nos seus botões de navegação, que veio diferente do que estamos acostumados a ver
em outros tipos de Android, que é a "setinha, bolinha e quadradinho (ou três riscos)". Mas neste artigo você vai aprender
a como adicionar os botões de navegação elegantes do Android P sem a necessidade de ter ROOT no dispositivo, apenas
usando seu PC para o feito. Lembrando que a função é PAGA, porém, vale a pena gastar uma graninha com um designer mais
atraente para seu dispositivo.
Vamos lá 😉
Passo 1: Você precisará baixar o app Custom Navigation Bar tocando no botão de download abaixo, e sem seguida (no seu PC) baixar a ferramenta ADB no link abaixo do botão de download:
Passo 2: No celular, vá até Configurações > Sobre o dispositivo > Toque em Número da Versão até que apareça "Não é necessário. Você é um desenvolvedor.". Ainda nas configurações vá até Opções do Desenvolvedor e marque a Depuração USB e volte para o aplicativo Custom Navigation Bar;
Abra o aplicativo e toque na seta amarela para avançar;
Escolha o método para utilizar o app, com ADB (PC), ROOT ou Xposed;
Neste caso escolha o Grant using PC;
Conecte seu Dispositivo via USB em seu PC.
Passo 3: Agora no PC, abra o instalador ADB-setup e quando abrir uma janela de comando AZUL, digite a letra "Y" e dê Enter em cada uma das frases, exemplo:
Do you want to install ADB and Fastboot? (Digite "Y" e dê enter)
Install ADB system-wide? (Digite "Y" e dê enter)
Do you want to install device drivers? (Digite "Y" e dê enter).
Passo 4: Agora, fora da pasta platform-tools juntamente com o botão Shift pressionado dê um clique com botão direito em cima da pasta e depois clique em "abrir uma janela de comando aqui"  e quando abrir a janela de comando, digite sem aspas "adb shell" e dê enter, veja seu celular e autorize a depuração USB dando OK:
Passo 5: Quando aparecer o modelo de seu dispositivo na janela de comando, copie o seguinte comando abaixo e cole na janela de comando apertando Enter em seguida:
pm grant xyz.paphonb.systemuituner android.permission.WRITE_SECURE_SETTINGS
No Celular
Passo 1: Já no aplicativo estará escrito "Safety First" é só tocar no botão Start, depois vai pedir para tocar no botão "next" que estará na sua barra de navegação e depois em "finish".
Passo 2: Vá até "Navigation Bar" e vá até "Theme" e escolha o tema do Android P e dê OK. Lembrando que para funcionar você precisa comprar a versão PRO que é bem baratinho, é só tocar em comprar, preencher seus dados e pronto:
Dica: Caso queira mudar o Layout dos ícones dos botões, é só tocar em Navigation Bar > Layout:
Gostou desta dica? Não se esqueça de comentar, compartilhar e me seguir lá no
Insta: @FabioRodriguesBarroso 😉