VOLTA ÀS AULAS – APPS PARA IR BEM NA ESCOLA OU FACULDADE
615 total views, 4 views today
Hoje é o último dia do mês de Janeiro, as aulas de muitos começam amanhã, ou até mesmo no dia seis, mas o que importa é que o ano letivo escolar estará se iniciando em breve. Mas a tecnologia pode bem dar uma " mãozinha " nessa volta as aulas, por isso, nós escolhemos os melhores aplicativos que irão te ajudar nessa volta as aulas! Isso é a tecnologia dando uma força nos estudos, mas vale ressaltar, use com moderação!
ASSISTA VÍDEO COMPLETO
---
PhotoMath:
Esse é um dos melhores aplicativos dessa lista, com ele nós conseguimos obter respostas de equações apenas utilizando a câmera de nosso smartphone! Uma maneira muito simples e bacana de conseguir resolver aquele exercício difícil! Alem disso, ele salva as suas ultimas equações, algo que é bem bacana, já que não teremos que utilizar a câmera sempre que quisermos obter um resultado!
---
Agenda Escolar:
Se no seu colégio ou na faculdade esta tendo muitos trabalhos e matérias esse aplicativo pode ser a solução de seus problemas! Com ele você consegue organizar sua agenda, mantendo assim tudo em ordem! Alem disso o aplicativo nos permite salvar notas, trabalhos e afins! Algo bem útil para o cotidiano de um estudante!
---
Truques Matemáticos:
Se você não é muito bom em contas de cabeça ( assim como eu ) saiba que existe um aplicativo que te ajuda a praticar na matéria de matemática, confesso, gostei muito do aplicativo! Ele conta com um visual simples, porem, muito intuitivo. Dentro do aplicativo nós encontramos diversos modos de treinamento, seja sozinho ou acompanhado, desde adição até exponenciação! Seus único ponto são as propagandas, que acabam incomodando o usuário!
---
Brainly
Se você é realmente um estudante, bem provável que conheça o " Brainly " , uma comunidade estilo " Yahoo ", onde os usuários fazem perguntas e são respondidos por outros usuários, facilitando muito a aprendizagem e a realização das tarefas diárias!
---
Se você gostou compartilhe!
FUNÇÃO DO NOVO ANDROID! Coloque os botões de navegação do ANDROID P em seu celular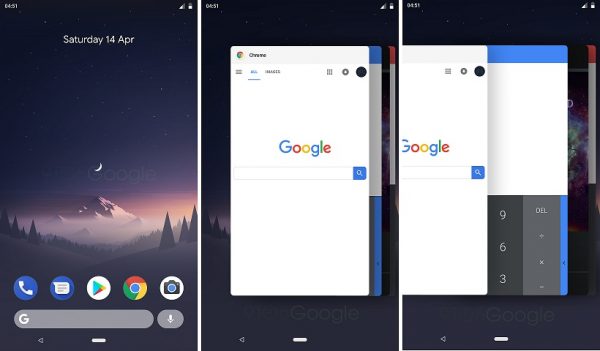 16,344 total views, 658 views today
O novo Android P veio com muitas animações interessantes em sua nova versão.
Uma dessas animações está nos seus botões de navegação, que veio diferente do que estamos acostumados a ver
em outros tipos de Android, que é a "setinha, bolinha e quadradinho (ou três riscos)". Mas neste artigo você vai aprender
a como adicionar os botões de navegação elegantes do Android P sem a necessidade de ter ROOT no dispositivo, apenas
usando seu PC para o feito. Lembrando que a função é PAGA, porém, vale a pena gastar uma graninha com um designer mais
atraente para seu dispositivo.
Vamos lá 😉
Passo 1: Você precisará baixar o app Custom Navigation Bar tocando no botão de download abaixo, e sem seguida (no seu PC) baixar a ferramenta ADB no link abaixo do botão de download:
Passo 2: No celular, vá até Configurações > Sobre o dispositivo > Toque em Número da Versão até que apareça "Não é necessário. Você é um desenvolvedor.". Ainda nas configurações vá até Opções do Desenvolvedor e marque a Depuração USB e volte para o aplicativo Custom Navigation Bar;
Abra o aplicativo e toque na seta amarela para avançar;
Escolha o método para utilizar o app, com ADB (PC), ROOT ou Xposed;
Neste caso escolha o Grant using PC;
Conecte seu Dispositivo via USB em seu PC.
Passo 3: Agora no PC, abra o instalador ADB-setup e quando abrir uma janela de comando AZUL, digite a letra "Y" e dê Enter em cada uma das frases, exemplo:
Do you want to install ADB and Fastboot? (Digite "Y" e dê enter)
Install ADB system-wide? (Digite "Y" e dê enter)
Do you want to install device drivers? (Digite "Y" e dê enter).
Passo 4: Agora, fora da pasta platform-tools juntamente com o botão Shift pressionado dê um clique com botão direito em cima da pasta e depois clique em "abrir uma janela de comando aqui"  e quando abrir a janela de comando, digite sem aspas "adb shell" e dê enter, veja seu celular e autorize a depuração USB dando OK:
Passo 5: Quando aparecer o modelo de seu dispositivo na janela de comando, copie o seguinte comando abaixo e cole na janela de comando apertando Enter em seguida:
pm grant xyz.paphonb.systemuituner android.permission.WRITE_SECURE_SETTINGS
No Celular
Passo 1: Já no aplicativo estará escrito "Safety First" é só tocar no botão Start, depois vai pedir para tocar no botão "next" que estará na sua barra de navegação e depois em "finish".
Passo 2: Vá até "Navigation Bar" e vá até "Theme" e escolha o tema do Android P e dê OK. Lembrando que para funcionar você precisa comprar a versão PRO que é bem baratinho, é só tocar em comprar, preencher seus dados e pronto:
Dica: Caso queira mudar o Layout dos ícones dos botões, é só tocar em Navigation Bar > Layout:
Gostou desta dica? Não se esqueça de comentar, compartilhar e me seguir lá no
Insta: @FabioRodriguesBarroso 😉