VIVO V9 chegará batendo de frente com intermediários de marcas famosas
4,208 total views, 18 views today
A VIVO agitou a CES 2018 quando trouxe o primeiro smartphone com leitor de digitais embaixo da tela, uma tecnologia que já era esperada por muitos a anos e agora pode ser experimentada na prática por quem esperar o Vivo X20 Plus In-Display chegar ao mercado. Entretanto a empresa não pode viver apenas de um protótipo inovador, e por este motivo eles já estão tirando do forno o Vivo V9.
VAI TER NOTCH SIM!
Algo que já deixou de ser "inovação" para se tornar clichê é a tela com o raio do entalhe no meio para assemelhar-se ao iPhone X. Apesar de manjando e ser claramente uma estratégia das empresas para economizarem na compra de peças (pois existem diversas telas fabricadas com notch disponíveis no mercado e sairia mais caro tentar inovar de verdade), esse recurso é utilizado justamente para dar ao usuário a experiência de usar o corpo de um produto da Apple com o sistema Android.
BIOMETRIA
Mesmo tendo um sistema de leitura de digitais diferenciado prontinho para ser distribuído entre os modelos da marca, a Vivo optou por colocar um sensor na traseira do aparelho, fazendo com que o preço do produto não seja modificado a ponto dele ser um intermediário com preço de top de linha.
Para ter um plus e seguir a tendência de empresas como OnePlus, Asus e Samsung, também há um leitor facial para desbloqueio do aparelho, mas justamente por ser um escaneamento simples, não pode ser comparado ao FaceID do iPhone.
MAIS ANIMOJIS
E aproveitando essa tendência dos Animojis, AR Emojis e Zennymojis, a Vivo também terá os seus emojis animados que serão chamados de AR Stickers, assim como o Pixel 2. Provavelmente o sistema terá a mesma intenção: jogar personagens no mundo real e seguir um caminho um pouco diferente dos concorrentes.
Especificações:
– Tela FullHD+ (19:9)
– Processador Qualcomm Snapdragon 626
– Android Oreo 8.0
– 4GB RAM e 64GB ROM (expansível até 256GB)
– Câmeras traseira de 16MP e 5MP
– Câmera fronta 24MP
– Filmagem em 4K
– AR Stickers
– A.I. Face Beauty
– Slot Triplo (2 chips + micro SD)
Ainda não há informações oficiais sobre a data de lançamento, mas acredita-se que seja um pouco antes da Copa do Mundo já que a marca será uma das patrocinadoras, e as especulações de preço giram em torono de R$1.130,00 e R$1.250,00. Um vídeo promocional foi postado no canal oficial da marca na Indonésia, o que fez os rumores ficarem ainda mais fortes.
Fontes: TECNOAGE
ASUS Republic of Gamers anuncia Strix SCAR II e Hero II na Computex 2018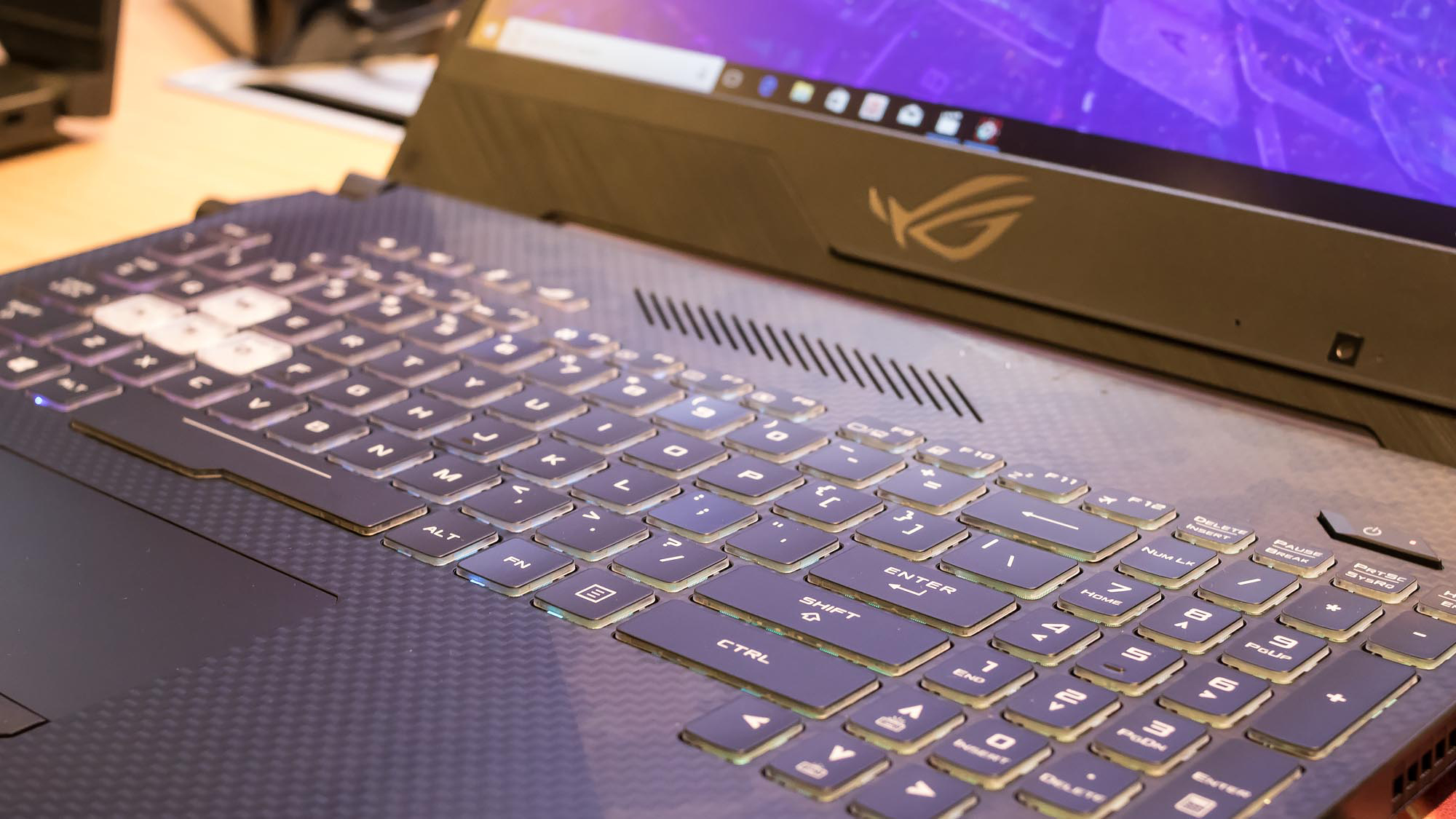 10,276 total views, 150 views today
Os notebooks gamers trazem telas finas, multi-antena Wi-Fi, tecnologia Pro HyperCool e teclados Pro HyperStrike
Taipei, 4 junho de 2018 – A ASUS Republic of Gamers (ROG) anunciou hoje o Strix SCAR II e Hero II, acompanhando o sucesso dos notebooks gamers, na coletiva de imprensa realizada na Computex 2018.
Os notebooks trazem um novo design compacto e barra de iluminação frontal com luzes Aura Sync customizadas. Os dois notebooks apresentam a primeira tela do mundo com taxa de atualização de 144 Hz, teclado Pro HyperStrike para melhor controle de jogos e tecnologia Pro HyperCool para dissipar o calor produzido pelo hardware. Os modelos também são os primeiros notebooks do mundo a apresentar Wi-Fi de antenas múltiplas para melhor conectividade.
Tela com borda ultrafina, taxa de atualização de 144Hz e tempo de resposta de 3ms GTG
Para o máximo desempenho em jogos de ritmo acelerado, os Strix SCAR II e Hero II contam com a primeira tela de borda ultrafina com taxa de atualização de 144Hz e tempo de resposta de apenas 3ms GTG. Este novo design possibilita que as dimensões sejam  reduzidas ao mínimo – ambos notebooks são 2.33 cm mais estreitos que seus antecessores. Também são mais leves, com um peso total de 2,4 kg. Uma estrutura de borracha envolve a tela para protegê-la contra danos quando a tampa é fechada, além de melhorar visualmente a espessura da moldura para uma sensação mais imersiva. A tela com taxa de atualização de 144 Hz e tempo de resposta de 3 ms garantem imagens suaves e nítidas, permitindo que os jogadores reajam instantaneamente e com precisão ao que está acontecendo no jogo.
Teclado para jogos com tecnologia Pro HyperStrike
Tanto o Strix SCAR II quanto o Hero II possuem teclado para jogos com tecnologia Pro HyperStrike para um maior comando e controle das ações. O teclado tem um layout inspirado em desktop, incluindo quatro teclas de atalho compatíveis com Aura Sync personalizável, retroiluminação RGB em quatro zonas e chaves ergonomicamente projetadas, com curvas de teclados de 0,25 mm de profundidade.
A tecnologia Overstroke exclusiva da ROG, que tem uma distância maior de curso para ações mais rápidas, precisas e sem esforços. O teclado possui grupos de teclas WASD (para SCAR II) ou QWER (para Hero II) especialmente destacados com protetores de teclas transparentes e tecnologia de rolagem N-key.
Tecnologia ROG RangeBoost para zero pontos inativos
SCAR II e Hero II são os primeiros notebooks para jogos do mundo a apresentar Wi-Fi de antenas múltiplas para jogos online mais estáveis. A tecnologia ROG RangeBoost utilza a combinação de quatro antenas – localizadas na frente e atrás do notebook – com um único algoritmo que digitaliza e seleciona o melhor par de antenas para cobrir os pontos inativos, resultando em 30% de cobertura mais ampla que as configurações de antena dupla. O mais recente padrão 802.11ac Wave 2 Wi-Fi oferece velocidades de até 1.7Gbps – o dobro do 802.11ac 2×2 e 12x do 802.11b / g / n.
Perfeito para jogos
Os novos notebooks gamers Strix são alimentados pela última geração do processador Intel® Core™ com até 32 GB de memória DDR4 2666MHz e tecnologia de gráficos NVIDIA® GeForce® GTX 1060 ou GTX 1070. Para o armazenamento, pode ser especificado com até 512GB M.2 NVMe PCIe® 3.0 x4 e uma unidade híbrida de estado sólido Seagate® FireCuda™ de 1TB (SSHD).
O processador de oito núcleos Intel Core i7-8750H da 8ª geração é 23% mais potente que os da geração anterior. As tecnologias Intel Speed Shift e Turbo Boost também impulsionam o processador para velocidades de até 4 GHz – quatro núcleos – e 3.9 GHz – seis núcleos – respectivamente. O Intel Hyper-Threading permite até 12 threads para lidar com todas as tarefas de maneira rápida e eficiente, incluindo jogos, gravações e transmissões ao vivo simultâneas. Além disso, também traz até 32 GB de memória dual-channel DDR4 2666MHz para velocidades de processamento mais rápidas e menor consumo de energia.
O SSD NVMe PCIe 3.0 x4 de 512GB M.2 oferece uma largura de banda potencial de até 32Gbps para que tudo pareça rápido e suave. Quando usado como armazenamento primário ou como uma unidade secundária para suportar o SSD, o SSH FireCuda de 5400 rpm carrega jogos em menos da metade do tempo gasto pelos HDDs de 1 TB 7200 rpm – e também é mais silencioso. O SSHD percebe os arquivos usados com mais frequência e os armazena em sua memória flash interna para agilizar as velocidades de acesso a arquivos.
Resfriamento extremo com Pro HyperCool
O sistema térmico HyperCool Pro fornece o desempenho de refrigeração para aproveitar ao máximo a CPU e a GPU de alto desempenho do notebook. Uma placa de resfriamento absorve calor e o espalha uniformemente para evitar o aquecimento térmico e manter os componentes abaixo de 90°C, enquanto dois ventiladores de 12V proporcionam fluxo de ar mais forte e maior pressão de ar para resfriar o CPU e GPU e expulsar o ar quente do chassi.
O Pro HyperCool também incorpora o sistema de refrigeração anti-poeira (ADC), que utiliza a força centrífuga para expelir partículas de poeira e sujeira do chassi. Isso evita o acúmulo nas aletas do dissipador de calor e garante uma experiência de jogo estável. As aletas especiais de cobre possuem apenas 0,1 mm de espessura – metade das aletas comuns. Isso aumenta a área de superfície para dissipação de calor em até 10% e reduz a resistência do ar em 7%. O design normal da tampa do laptop pode bloquear o fluxo de ar para fora do chassi, o que poderia, em alguns casos, causar superaquecimento. A tampa de corte trapezoidal patenteada melhora a eficiência térmica em até 27% em relação aos projetos tradicionais.
O aplicativo Overboost, acessível ao pressionar FN + F5 ou pela tecla de atalho do Gaming Center, pode ser usado para selecionar três configurações de ventilação diferentes. O Fan Overboost fornece a velocidade mais rápida do ventilador para explorar completamente o poder do Strix SCAR II e do Hero II durante jogos intensos. O modo silencioso reduz a velocidade do ventilador e o consumo de energia para tarefas menos exigentes. Um modo balanceado proporciona um desempenho estável do ventilador em um nível de ruído moderado.
Áudio mais claro e mais alto
Ambos os notebooks oferecem áudio mais claro, mais alto e mais preciso através de poderosos alto-falantes laterais que fornecem som imersivo. A tecnologia do amplificador inteligente monitora a saída de áudio e faz ajustes em tempo real, com faixa dinâmica e graves aumentados. O Sonic Studio III oferece áudio de alta qualidade no jogo, som surround para fones de ouvido, bem como streaming e gravação de áudio aprimorado para captação de voz e redução de ruídos.
DISPONIBILIDADE
Não há previsão de lançamento dos notebooks ROG Strix SCAR II e Strix Hero II no Brasil.
ESPECIFICAÇÕES
ROG Strix SCAR II (GL504GM / GL504GS)
ROG Strix Hero II (GL504GM)
Processador
8th Gen Intel® Core™ i7-8750H

8th Gen Intel® Core™ i5-8300H

8th Gen Intel® Core™ i7-8750H

8th Gen Intel® Core™ i5-8300H

Sistema operacional
Windows 10 Home

Windows 10 Pro

Windows 10 Home

Windows 10 Pro

Tela
15.6″ IPS-level FHD (1920 x 1080) painel com taxa de atualização de 144Hz, tempo de resposta de 3ms GTG, gama de cores 100% sRGB, e revestimento anti-reflexo
15.6″ IPS-level FHD (1920 x 1080) painel com taxa de atualização de 144Hz, tempo de resposta de 3ms GTG, gama de cores 100% sRGB, e revestimento anti-reflexo

15.6″ IPS-level FHD (1920 x 1080) painel com taxa de atualização de 60Hz, tempo de resposta de 3ms GTG, gama de cores 100% sRGB, e revestimento anti-reflexo

Gráficos
GL504GM:

NVIDIA® GeForce® GTX 1060 com 6GB GDDR5 VRAM

GL504GS:

NVIDIA® GeForce® GTX 1070 com 8GB GDDR5 VRAM

NVIDIA® GeForce® GTX 1060 com 6GB GDDR5 VRAM
Memória
Até 32GB DDR4 2666MHz SDRAM (canal duplo)
Até 32GB DDR4 2666MHz SDRAM (canal duplo)
Armazenamento 
M.2 NVMe PCIe® 128GB / 256GB / 512GB SSD

2.5" 5400rpm 1TB SSHD

2.5" 5400rpm / 7200rpm 1TB HDD

M.2 NVMe PCIe® 128GB / 256GB / 512GB SSD

2.5" 5400rpm 1TB SSHD

2.5" 5400rpm / 7200rpm 1TB HDD

Wireless
802.11ac 2×2 Wave 2 Wi-Fi

Bluetooth® 5.0

802.11ac 2×2 Wave 2 W-Fi

Bluetooth® 5.0

Conectividade
1 x USB 3.1 Gen 2 Type-C™ (USB-C™)

2 x USB 3.1 Gen 1

1 x USB 3.1 Gen 2

1 x mini DisplayPort 1.2

1 x HDMI 2.0

1 x RJ-45 jack

1 x SD leitor de cartão

1 x 3.5mm conector combinado de fone de ouvido e microfone

1 x Kensington lock

1 x USB 3.1 Gen 2 Type-C™ (USB-C™)

2 x USB 3.1 Gen 1

1 x USB 3.1 Gen 2

1 x mini DisplayPort 1.2

1 x HDMI 2.0

1 x RJ-45 jack

1 x SD leitor de cartão

1 x 3.5mm conector combinado de fone de ouvido e microfone

1 x Kensington lock

Teclado
Teclado chiclete retroiluminado

RGB através de quatro zonas, com suporte Aura Sync

Teclas WASD marcadas

Hot keys: Volume up / Volume down / Mute /  ROG Gaming Center

1.8mm distância da viagem

0.25mm curso da tecla

Teclado chiclete retroiluminado

RGB através de quatro zonas, com suporte Aura Sync

Tecla QWER marcadas

Hot keys: Volume up / Volume down / Mute /  ROG Gaming Center

1.8mm distância da viagem

0.25mm curso da tecla

Áudio
2x 3.5W alto-falantes com tecnologia de amplificador inteligente

Microfone de matriz

2 x 3.5W alto-falantes com tecnologia de amplificador inteligente

Microfone de matriz

Software
ROG Gaming Center 2.5

ROG GameFirst V

ASUS Splendid

ASUS Sonic Studio & Sonic Radar III

ASUS Aura Core 2.5

XSplit Gamecaster (livre)

Android™ / iOS app

ROG Gaming Center 2.5

ROG GameFirst V

ASUS Splendid

ASUS Sonic Studio & Sonic Radar III

ASUS Aura Core 2.5

XSplit Gamecaster (livre)

Android™ / iOS app

VR Ready
Sim
Sim
Windows Mixed Reality
Básico (mínimo 8GB RAM requerido)
Básico (mínimo 8GB RAM requerido)
Potência
GL504GM:

180W adaptador de energia

GL504GS:

230W adaptador de energia

180W adaptador de energia

Tamanho
36.1 x 26.2 x 2.61cm
36.1 x 26.2 x 2.61cm
Peso
2.4kg
2.4kg