Smartphone perdido ou roubado? Nós temos a solução!
1,089 total views, 4 views today
Com o passar do tempo os smartphones tem se tornado algo indispensável em nosso dia-a-dia, seja para trabalho ou até mesmo entretenimento, mas convenhamos que esse aparelho também tem se tornado um prato cheio para assaltantes, afinal, esse tipo de furto cresceu 40% nos últimos 5 anos, segundo a Polícia Civil.
Mas o que fazer para proteger meu smartphone? Acredito que você deve ter se perguntado isso, mas não se preocupe, responderemos mais pra frente. É certo que às lojas de apps, seja Windows Store, Google Play ou até mesmo AppStore estão repletas de aplicativos que prometem oferecer uma maior segurança em nossos celulares, mas convenhamos de que na maioria das vezes esse serviço não é executado da maneira como deveria ser e da forma como gostaríamos.
ASSISTA O VÍDEO COMPLETO COM A SOLUÇÃO:
Mas voltamos a pergunta inicial: O que fazer caso eu perca meu dispositivo?. Não se preocupe, ou melhor, não entre em pânico; se seu aparelho possuir como sistema operacional o Android fique tranquilo, certamente sera fácil rastreá-lo, quer saber como? Continue lendo esse artigo!
---
ENCONTRAR DISPOSITIVO
Esse procedimento será bem mais fácil se você tiver um aplicativo instalado em seu smartphone, mas calma, não é nenhum app de terceiros, estaremos utilizando o Localizar o meu dispositivo desenvolvido pela Google, ou seja, é confiável! Você pode busca-lo na Google Play ou clicar no botão abaixo para fazer o download:
Após te-lo instalado basta logar com sua conta do Google e pronto, seu aparelho será localizado quando necessário. Para buscar pelo aparelho, digite: ACHE MEU SMARTPHONE em seu navegador, ou clique aqui para acessar diretamente
---
SAIBA MAIS
Se você estiver em um local com índice de periculosidade elevado nós recomendamos que você se possível ative o GPS e DADOS MÓVEIS de seu aparelho, desta forma a precisão ao rastreá-lo será maior, ou seja, com mais chances de êxito. Veja abaixo algumas imagens do aplicativo em funcionamento
 Podemos observar nas imagens acima um pouco do design do aplicativo, algo bem simples, afinal, não entraremos nele todos os dias, apenas uma vez na configuração inicial. Após ter encontrado seu celular você tem três opções: Reproduzir som, Bloquear e Limpar.
Todas as três podem ser ativadas a qualquer momento após ter localizado o aparelho através de seu computador, digitando " ACHE MEU SMARTPHONE " na sua barra de pesquisa, como já mencionado anteriormente, veja abaixo a interface do site no qual podemos obter a localização do smartphone.
O ponto verde no mapa indica a localização aproximada do aparelho; notem que no canto esquerdo nós temos algumas informações, como a porcentagem da bateria, por exemplo. Indo um pouco mais alem também podemos observar as três funções que mencionamos acima, lembrando que elas podem ser ativadas a qualquer momento e remotamente, desde que você tenha encontrado o aparelho e ele esteja Online.
---
Comentário do Redator:
Alguns dias atrás eu havia ido na casa de um amigo, e por ventura acabei esquecendo meu smartphone lá, confesso que inicialmente o medo de ter perdido meu celular foi evidente, mas me lembrei dessa ferramenta que eu tinha instalado em meu celular alguns dias atrás, diante da situação resolvi testar, e me surpreendi ao ver que realmente meu smartphone foi encontrado.
Após conseguir localiza-lo fiquei mais tranquilo. Mediante a tal acontecimento resolvi trazer um artigo falando sobre o app, da mesma forma que me ajudou acredito que possa ajudar mais alguém também.Então espero que você tenha gostado desse artigo, não se esqueça de compartilhar com seus amigos. Ah, não feche a guia sem antes deixar seu comentário hein!
---
Fonte: TECNOAGE
FUNÇÃO DO NOVO ANDROID! Coloque os botões de navegação do ANDROID P em seu celular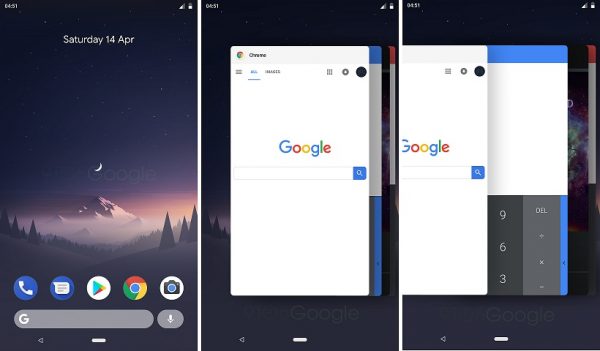 17,095 total views, 1,409 views today
O novo Android P veio com muitas animações interessantes em sua nova versão.
Uma dessas animações está nos seus botões de navegação, que veio diferente do que estamos acostumados a ver
em outros tipos de Android, que é a "setinha, bolinha e quadradinho (ou três riscos)". Mas neste artigo você vai aprender
a como adicionar os botões de navegação elegantes do Android P sem a necessidade de ter ROOT no dispositivo, apenas
usando seu PC para o feito. Lembrando que a função é PAGA, porém, vale a pena gastar uma graninha com um designer mais
atraente para seu dispositivo.
Vamos lá 😉
Passo 1: Você precisará baixar o app Custom Navigation Bar tocando no botão de download abaixo, e sem seguida (no seu PC) baixar a ferramenta ADB no link abaixo do botão de download:
Passo 2: No celular, vá até Configurações > Sobre o dispositivo > Toque em Número da Versão até que apareça "Não é necessário. Você é um desenvolvedor.". Ainda nas configurações vá até Opções do Desenvolvedor e marque a Depuração USB e volte para o aplicativo Custom Navigation Bar;
Abra o aplicativo e toque na seta amarela para avançar;
Escolha o método para utilizar o app, com ADB (PC), ROOT ou Xposed;
Neste caso escolha o Grant using PC;
Conecte seu Dispositivo via USB em seu PC.
Passo 3: Agora no PC, abra o instalador ADB-setup e quando abrir uma janela de comando AZUL, digite a letra "Y" e dê Enter em cada uma das frases, exemplo:
Do you want to install ADB and Fastboot? (Digite "Y" e dê enter)
Install ADB system-wide? (Digite "Y" e dê enter)
Do you want to install device drivers? (Digite "Y" e dê enter).
Passo 4: Agora, fora da pasta platform-tools juntamente com o botão Shift pressionado dê um clique com botão direito em cima da pasta e depois clique em "abrir uma janela de comando aqui"  e quando abrir a janela de comando, digite sem aspas "adb shell" e dê enter, veja seu celular e autorize a depuração USB dando OK:
Passo 5: Quando aparecer o modelo de seu dispositivo na janela de comando, copie o seguinte comando abaixo e cole na janela de comando apertando Enter em seguida:
pm grant xyz.paphonb.systemuituner android.permission.WRITE_SECURE_SETTINGS
No Celular
Passo 1: Já no aplicativo estará escrito "Safety First" é só tocar no botão Start, depois vai pedir para tocar no botão "next" que estará na sua barra de navegação e depois em "finish".
Passo 2: Vá até "Navigation Bar" e vá até "Theme" e escolha o tema do Android P e dê OK. Lembrando que para funcionar você precisa comprar a versão PRO que é bem baratinho, é só tocar em comprar, preencher seus dados e pronto:
Dica: Caso queira mudar o Layout dos ícones dos botões, é só tocar em Navigation Bar > Layout:
Gostou desta dica? Não se esqueça de comentar, compartilhar e me seguir lá no
Insta: @FabioRodriguesBarroso 😉