Review e download: Mortal Kombat X
9,880 total views, 19 views today
Experimente as lutas viscerais e fantásticas de MORTAL KOMBAT X, com gráficos incríveis e novos personagens…
Leve o poder da nova geração de games para seu dispositivo móvel e tablet com este revolucionário jogo de luta e de cartas colecionáveis.
Monte uma equipe com os melhores guerreiros de Mortal Kombat e teste seu poder no maior torneio de luta da Terra.
KOMBATE BRUTAL DE 3 x 3
Crie sua própria equipe de guerreiros do Mortal Kombat e lute para ganhar experiência, golpes especiais novos e artefatos poderosos.
LISTA ENORME DE LUTADORES
Colecione veteranos do Mortal Kombat, como Scorpion, Johnny Cage, Sub-Zero, Sonya, Kitana, Ermac e muitos outros. Descubra os novos guerreiros do Mortal Kombat, como a insetoide D'Vorah, a esquentadinha Cassie Cage, o guerreiro sedento de sangue Kotal Kahn e o misterioso Kung Jin.
RAIOS-X E FATALITIES DE CAIR O QUEIXO
Mortal Kombat X traz seus tradicionais Fatalities e Raios-X para os dispositivos móveis. Com gráficos fantásticos, estes golpes assustadores são um soco no estômago.
DESAFIE OUTROS JOGADORES
Lute contra outros jogadores na Guerra de Facções, um modo de competição online onde jogadores enfrentam as equipes de outros usuários. Suba de posição no placar de líderes de sua própria Facção e ganhe recompensas semanais.
CHAME ALIADOS PARA LUTAR AO SEU LADO
Encontre outros jogadores para serem seus Aliados. Pegue um kombatente emprestado e desfira um golpe crucial em seus inimigos.
Faça já o download deste incrível jogo, grátis para você aproveitar bastante…
FUNÇÃO DO NOVO ANDROID! Coloque os botões de navegação do ANDROID P em seu celular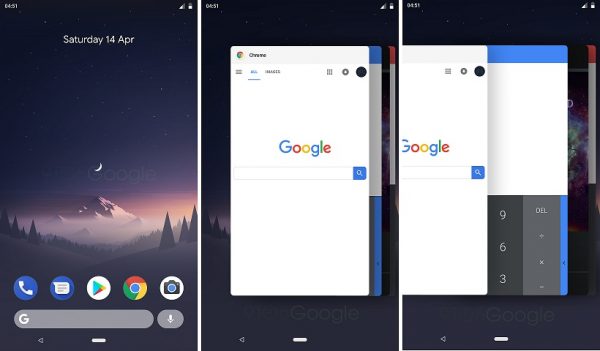 16,311 total views, 625 views today
O novo Android P veio com muitas animações interessantes em sua nova versão.
Uma dessas animações está nos seus botões de navegação, que veio diferente do que estamos acostumados a ver
em outros tipos de Android, que é a "setinha, bolinha e quadradinho (ou três riscos)". Mas neste artigo você vai aprender
a como adicionar os botões de navegação elegantes do Android P sem a necessidade de ter ROOT no dispositivo, apenas
usando seu PC para o feito. Lembrando que a função é PAGA, porém, vale a pena gastar uma graninha com um designer mais
atraente para seu dispositivo.
Vamos lá 😉
Passo 1: Você precisará baixar o app Custom Navigation Bar tocando no botão de download abaixo, e sem seguida (no seu PC) baixar a ferramenta ADB no link abaixo do botão de download:
Passo 2: No celular, vá até Configurações > Sobre o dispositivo > Toque em Número da Versão até que apareça "Não é necessário. Você é um desenvolvedor.". Ainda nas configurações vá até Opções do Desenvolvedor e marque a Depuração USB e volte para o aplicativo Custom Navigation Bar;
Abra o aplicativo e toque na seta amarela para avançar;
Escolha o método para utilizar o app, com ADB (PC), ROOT ou Xposed;
Neste caso escolha o Grant using PC;
Conecte seu Dispositivo via USB em seu PC.
Passo 3: Agora no PC, abra o instalador ADB-setup e quando abrir uma janela de comando AZUL, digite a letra "Y" e dê Enter em cada uma das frases, exemplo:
Do you want to install ADB and Fastboot? (Digite "Y" e dê enter)
Install ADB system-wide? (Digite "Y" e dê enter)
Do you want to install device drivers? (Digite "Y" e dê enter).
Passo 4: Agora, fora da pasta platform-tools juntamente com o botão Shift pressionado dê um clique com botão direito em cima da pasta e depois clique em "abrir uma janela de comando aqui"  e quando abrir a janela de comando, digite sem aspas "adb shell" e dê enter, veja seu celular e autorize a depuração USB dando OK:
Passo 5: Quando aparecer o modelo de seu dispositivo na janela de comando, copie o seguinte comando abaixo e cole na janela de comando apertando Enter em seguida:
pm grant xyz.paphonb.systemuituner android.permission.WRITE_SECURE_SETTINGS
No Celular
Passo 1: Já no aplicativo estará escrito "Safety First" é só tocar no botão Start, depois vai pedir para tocar no botão "next" que estará na sua barra de navegação e depois em "finish".
Passo 2: Vá até "Navigation Bar" e vá até "Theme" e escolha o tema do Android P e dê OK. Lembrando que para funcionar você precisa comprar a versão PRO que é bem baratinho, é só tocar em comprar, preencher seus dados e pronto:
Dica: Caso queira mudar o Layout dos ícones dos botões, é só tocar em Navigation Bar > Layout:
Gostou desta dica? Não se esqueça de comentar, compartilhar e me seguir lá no
Insta: @FabioRodriguesBarroso 😉