Melhores EMULADORES de ANDROID para PC FRACO
26,173 total views, 112 views today
É muito provável que você já tenha pensado em emular o android em seu computador, é claro que temos diversos emuladores capazes de realizar tal tarefa, um deles é o BlueStacks, que permite que o usuário simule o sistema Android diretamente no computador, possibilitando a instalação de arquivos em .APK e demais funções. Mas infelizmente a maioria destes softwares ocupam muito espaço em disco e utilizam muita memória RAM, necessitando assim de um PC com um hardware mais parrudo, capaz de rodar o emulador sem travamentos.
Se o seu computador não dispõe de um hardware potente, saiba que mesmo assim você pode emular o android em seu computador, sim, isso é possível! Faremos isso através de dois emuladores: KO PLAYER e YouWave. Confira abaixo o processo de instalação de casa emulador.
---
KO PLAYER
Com certeza esse é um dos melhores emuladores do mercado, ele é bem leve e simples, seu design é bem bonito e já conta com a Google Play, podendo assim efetuar o download de aplicativos diretamente da loja da Google. Para baixa-lo clique no botão abaixo. Logo após o download você terá um pequeno guia de instalação.

1°PASSO:
Após ter baixado o arquivo clique duas vezes sobre ele > aceite todas os termos > clique em "next" > Selecione a opção "Speed Mode" > Continue to start. Essa opção é indicada para computadores mais fracos, ao ativa-la você fara com que o emulador ative o "Modo Velocidade" e tenha um melhor desempenho, mesmo em um computador com um hardware menos potente.
Após ter feito a instalação será apresentado um pequeno tutorial ensinando-o à como utilizar o KO PLAYER, logo em seguida será necessário que você faça login com sua conta do Google, isso é necessário para que você possa baixar apps diretamente da Play Store.
2°PASSO:
Tendo feito o passo anterior, vá nas configurações do emulador > advanced > Memory Settings > 1024MB > 1 core.
YOUWAVE
Diferentemente do anterior, o YouWave não possui a Google Play instalada, ou seja, é necessário que você faça a transferência dos arquivos em .apk de sites da internet. A versão emulada do android é a 4.0.4. Para baixa-lo clique no botão abaixo.

1°PASSO:
Após ter instalado, clique no canto superior esquerdo "file" > Search to apps > Procure pelo .apk baixado > Selecione > Done.
E aí, o quê achou dos emuladores? Conta pra gente! Deixe seu comentário! Ah, não vá embora antes de compartilhar esse artigo com seus amigos, hein!
---
ApowerEdit: O melhor editor de vídeo para Youtubers!
21,485 total views, 64 views today
Se você está iniciando na carreira de criador de conteúdo, certamente já tenha se questionado em algum momento sobre qual editor usar; você conhece o ApowerEdit? Pois bem, falaremos um pouco sobre ele neste artigo!
Infelizmente à maioria dos editores de vídeo são pagos e não dispõem de tantos recursos que justifiquem o valor que foi pago, além disso muitos possuem um valor exorbitante e que está fora de cogitação em nosso país, devido à alta taxa de tributos que é imposta sobre estes softwares. Mas a boa notícia vem agora: o ApowerEdit é gratuito! Sim, isso mesmo, GRATUITO! Em nossos testes ele se saiu muito bem quanto à renderização de vídeos, imagens e aúdios exportados para o software, tornando-se assim um dos melhores para tal objetivo.
Simples, bonito e prático. Essas são às palavras que mais se encaixam para descrever o PowerEdit; com um visual bem simples e dinâmico ele torna-se perfeito para iniciantes na área e usuários mais leigos, que não portam de um conhecimento mais avançado na área da edição. Veja abaixo algumas das diversas funções que encontram-se disponíveis dentro do editor.
---
FUNÇÕES E RECURSOS
TELA INICIAL:
Como já dissemos anteriormente seu visual é bem simples e intuitivo, perfeito para usuários mais leigos quando se trata de edição. Na parte superior nós temos a opção de "Importar", onde conseguimos adicionar vídeos, fotos e músicas ao editor; observe na imagem abaixo que a seta está indicando um vídeo que foi importado para o ApowerEdit, quando você adicionar algo o arquivo ficará visível de maneira semelhante. No canto esquerdo da tela temos os cinco principais recursos para edição (cujo falaremos adiante), são eles: Mídia, Texto, Filtros, Sobreposição & Transições.
Já na parte inferior da tela temos a timeline, linha na qual conseguimos visualizar, adicionar e controlar os efeitos que foram adicionados ao vídeo; para que você possa visualizar o resultado em tempo real, temos uma prévia do vídeo na parte superior direita (vide imagem).
TEXTO:
Assim como em outros editores, o ApowerEdit permite que você adicione textos e palavras diretamente em seu vídeo, para isso basta selecionar essa opção logo abaixo de "Mídia". Ao selecionar esta ferramenta lhe será apresentado diversas opções de modelos pré-selecionados de templates e balões de texto (veja na imagem abaixo). Se você preferir criar um tipo de personalização única também pode, basta alterar a fonte, brilho, contraste e outros itens personalizáveis da ferramenta "Texto".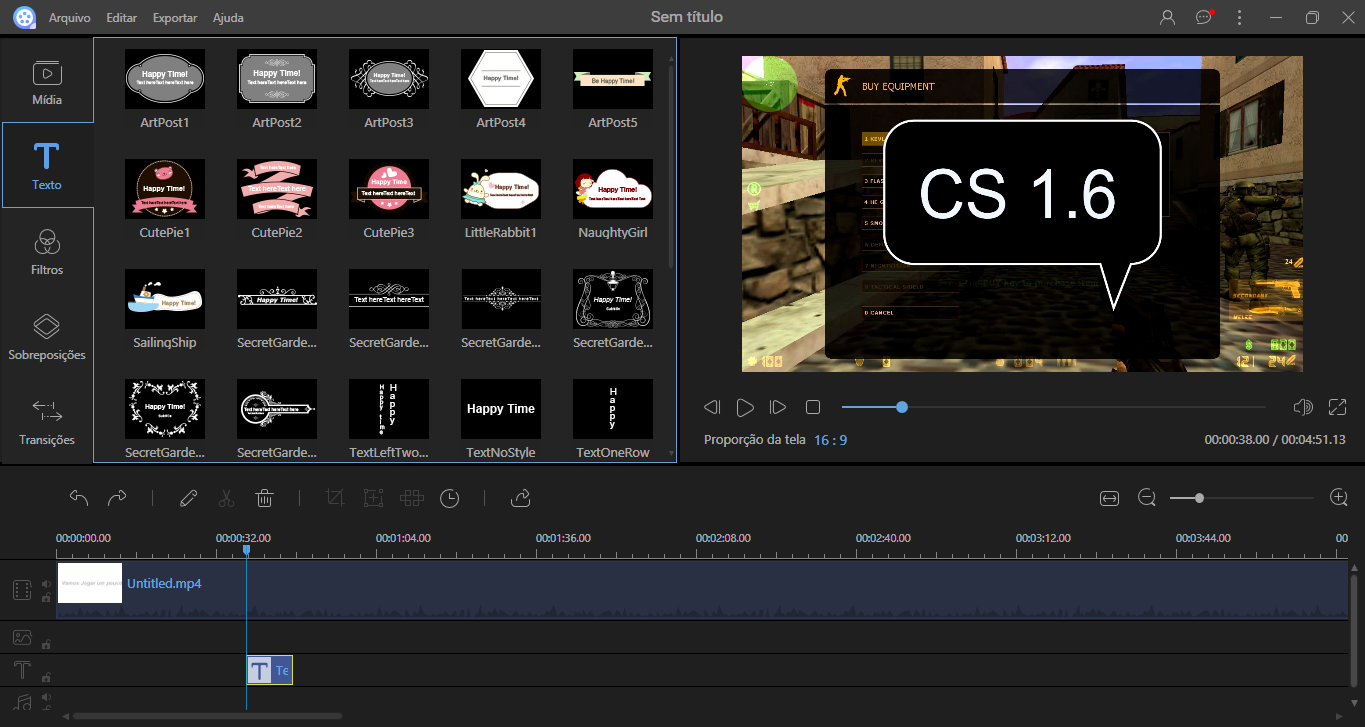 Na timeline você verá os itens que você adicionou, tais como texto, filtros, sobreposição e demais…
FILTROS:
Semelhantemente dá mesma forma que editores de imagem possuem filtro, o ApowerEdit também possui, com esse recurso você consegue alterar à tonalidade dá imagem, como brilho e contraste, por exemplo. Para habilitar essa função basta selecionar à opção que encontra-se na lateral esquerda, "filtro". Tendo selecionado, você verá diversas opções pré-configuradas para utilizar, caso queira; se preferir pode alterar manualmente.
Observem na preview que o brilho do vídeo foi alterado, para isso selecionamos uma das opções disponíveis no centro da tela.
SOBREPOSIÇÕES:
Aqui temos uma opção muito bacana, com ela conseguimos adicionar algumas molduras ao vídeo, como a de "REC", que simula a gravação de uma câmera. Como de praxe, para selecionar essa opção basta ir ao menu lateral.
Há mais de 30 molduras prontas para você utilizar, basta selecionar um de sua preferência e arrasta-lo até a timeline.
TRANSIÇÕES:
Quando você cortar uma parte do vídeo poderá adicionar um efeito de transição, que deixará o corte mais suave e dinâmico. Veja na imagem abaixo às diversas opções de transição.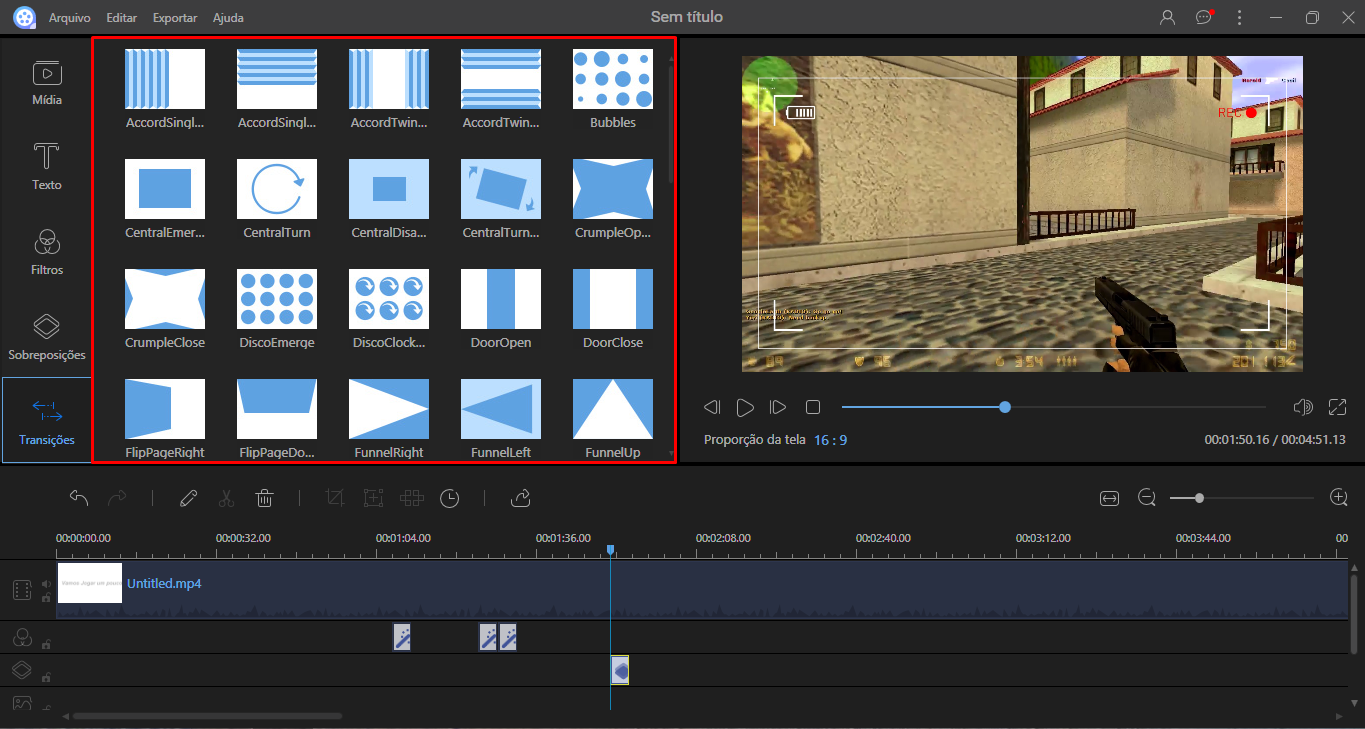 EXPORTANDO O VÍDEO:
Após ter finalizado seu projeto chegou à hora de exporta-lo, para isso vá até a parte superior "Exportar", após fazer isso selecione o tipo de arquivo que você quer que seja exportado (.MP4, .AVI, .WMV, .MKV, .MOV). Agora configure a saída, (HD, FULLHD)
---
DOWNLOAD:
Como você pôde percebe, esse software é realmente fascinante, para baixa-lo clique no botão abaixo.
---