Como ganhar créditos de graça no celular
8,284 total views, 21 views today
A Google Play é um serviço que esta repleto de aplicativos pouco conhecidos e divulgados, alguns desses apps nos oferecem um serviço no qual nós conseguimos obter pontos e trocar por produtos, desde Gift Card na Steam até créditos para celular. Obviamente que como já se era de esperar, alguns desses aplicativos não cumprem o que realmente prometem, causando certa frustração ao usuário que disponibilizou seu tempo para testa a função.
Assista o vídeo tutorial completo:
Por isso resolvemos trazer os três melhores aplicativos do gênero, com eles você irá conseguir ganhar produtos ou serviço de uma forma simples e intuitiva, confiram abaixo os três melhore aplicativos que trocam pontos por serviços!
---
GANHE NA TELA:
Aqui nós temos um app novo, mas que desde cedo vem nos surpreendendo e mostrando do que realmente é capaz. Com o Ganhe na Tela o usuário consegue trocar seus pontos dentro do aplicativo por créditos, seja para qualquer operadora. Para que o usuário consiga ganhar os pontos é necessário visualizar uma propaganda durante cinco segundos, mas não se preocupe, o aplicativo não vai floodar na tela do seu smartphone. Alem disso você pode convidar seus amigos e ganhar pontos junto com eles!
Para fazer o download clique aqui
FRONTO:
Aqui nós temos um aplicativo com uma proposta muito semelhante ao anterior, mas o que difere entre ambos é às recompensas; com o Fronto você pode trocar seus pontos por uma maior variedade de produtos, como Gift Card nas Lojas Americanas, saldo no PayPal e até mesmo pontos na Submarino! Alem de assistir a vídeos e ganhar pontos você também pode convidar seus amigos, assim ambos ganharão 1.200P,  caso deseje pode ganhar pontos utilizando o seguinte código: LCRS16
Para fazer o download clique aqui
mCent  – Recarga Grátis
Aqui temos uma proposta que foge um pouco das anteriores, a única modificação é que ao invés de ver propagandas você terá que baixar e instalar determinados aplicativos em seu aparelho, de tal forma após instalar e cumprir os requisitos determinados pelo app seus pontos cairão na conta e poderão ser trocados por créditos em uma operação futura.
Para fazer o download clique aqui
Comentário do Redator:
Se você busca conhecer novos aplicativos e utiliza seu smartphone diariamente, garanto que os aplicativos acima irão te dar uma grande ajuda pois alem de estar utilizando seu celular, irá também estar ganhando pontos, que eventualmente poderão ser trocados por créditos e demais produtos.
Se você gostou do artigo compartilhe com seus amigos, eles podem gostar também!
---
FUNÇÃO DO NOVO ANDROID! Coloque os botões de navegação do ANDROID P em seu celular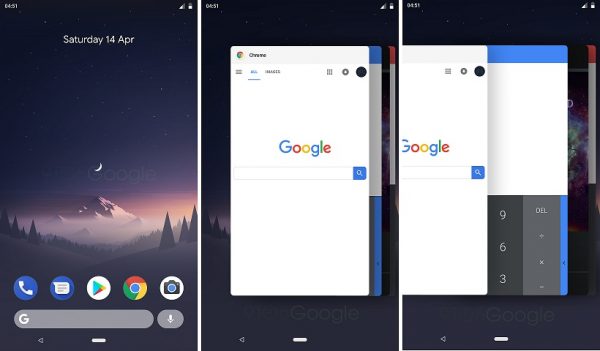 17,047 total views, 1,361 views today
O novo Android P veio com muitas animações interessantes em sua nova versão.
Uma dessas animações está nos seus botões de navegação, que veio diferente do que estamos acostumados a ver
em outros tipos de Android, que é a "setinha, bolinha e quadradinho (ou três riscos)". Mas neste artigo você vai aprender
a como adicionar os botões de navegação elegantes do Android P sem a necessidade de ter ROOT no dispositivo, apenas
usando seu PC para o feito. Lembrando que a função é PAGA, porém, vale a pena gastar uma graninha com um designer mais
atraente para seu dispositivo.
Vamos lá 😉
Passo 1: Você precisará baixar o app Custom Navigation Bar tocando no botão de download abaixo, e sem seguida (no seu PC) baixar a ferramenta ADB no link abaixo do botão de download:
Passo 2: No celular, vá até Configurações > Sobre o dispositivo > Toque em Número da Versão até que apareça "Não é necessário. Você é um desenvolvedor.". Ainda nas configurações vá até Opções do Desenvolvedor e marque a Depuração USB e volte para o aplicativo Custom Navigation Bar;
Abra o aplicativo e toque na seta amarela para avançar;
Escolha o método para utilizar o app, com ADB (PC), ROOT ou Xposed;
Neste caso escolha o Grant using PC;
Conecte seu Dispositivo via USB em seu PC.
Passo 3: Agora no PC, abra o instalador ADB-setup e quando abrir uma janela de comando AZUL, digite a letra "Y" e dê Enter em cada uma das frases, exemplo:
Do you want to install ADB and Fastboot? (Digite "Y" e dê enter)
Install ADB system-wide? (Digite "Y" e dê enter)
Do you want to install device drivers? (Digite "Y" e dê enter).
Passo 4: Agora, fora da pasta platform-tools juntamente com o botão Shift pressionado dê um clique com botão direito em cima da pasta e depois clique em "abrir uma janela de comando aqui"  e quando abrir a janela de comando, digite sem aspas "adb shell" e dê enter, veja seu celular e autorize a depuração USB dando OK:
Passo 5: Quando aparecer o modelo de seu dispositivo na janela de comando, copie o seguinte comando abaixo e cole na janela de comando apertando Enter em seguida:
pm grant xyz.paphonb.systemuituner android.permission.WRITE_SECURE_SETTINGS
No Celular
Passo 1: Já no aplicativo estará escrito "Safety First" é só tocar no botão Start, depois vai pedir para tocar no botão "next" que estará na sua barra de navegação e depois em "finish".
Passo 2: Vá até "Navigation Bar" e vá até "Theme" e escolha o tema do Android P e dê OK. Lembrando que para funcionar você precisa comprar a versão PRO que é bem baratinho, é só tocar em comprar, preencher seus dados e pronto:
Dica: Caso queira mudar o Layout dos ícones dos botões, é só tocar em Navigation Bar > Layout:
Gostou desta dica? Não se esqueça de comentar, compartilhar e me seguir lá no
Insta: @FabioRodriguesBarroso 😉