Deixe seu celular com visual do Android N
815 total views, 4 views today
O Android Nougat está fazendo bastante sucesso por suas novidades, entre elas uma que realmente muda bastante a forma como usamos nossos celulares, na nova versão do sistema da Google não existe mais a gaveta de aplicativos, entretanto se você está neste momento achando que iremos apenas mostrar como faz isso, vamos mostrar oque é uma verdadeira personalização, confira o passo o passo do que até o momento é tudo oque podemos fazer para transformar o android no nougat!
Antes de tudo, temos um vídeo bastante interessante para te indicar, nada mais é do que o passo a passo detalhado de tudo oque você deve fazer, então antes de qualquer coisa, confira o vídeo!
Assistiu o vídeo? Então vamos para o passo a passo!
Passo 1 – Faça download e instalação do Nova Launcher versão 5.0!
Passo 2 – Depois de feito a instalação, abra as configurações do android, vá até início e selecione o nova launcher.
Passo 3 – Agora dê um clique na tela, e vá até configurações do nova laucher, lá configure os seguintes itens:
Área de Trabalho:
Preenchimento de largura> Nenhum
Desativar persistente barra de pesquisa
Indicador Page> Nenhum
App & Widget gavetas: 
Estilo gaveta App> Vertical
Fundo do cartão desativada
Background> White 75% de transparência
Ativar barra de rolagem rápida
animação de transição> Deslize
Passo 4 – Baixe o IconPack do Android 7.0 Nougat
Passo 5 – Dê um clique na tela principal, vá até aparência e em seguida clique em tema dos ícones e marque "Nougat iconpck"
Passo 5 – Baixe os Wallpapers que separamos da nova versão do android, e aplique:
Passo 6 – Nessa etapa vem a configuração avançada, iremos usar o Root para adicionar funções do Nougat na nossa versão do Android
Passo 7 – Tendo Root, baixe e instale o xposet!
Passo 8- Depois de instalado, atualize-o e vá até módulo, procure por Android N-ify,e baixe, instale e ative o módulo e depois reinicie seu Android!
Feito todos os passos você terá as funções do novo android e principamente o design!
Se gostou ajude nosso site compartilhando esse artigo com seus amigos em suas redes sociais, e nos vemos em próximo artigo, obrigado por ter lido mais um de nossos conteúdos!
Até a próxima! 😉
FUNÇÃO DO NOVO ANDROID! Coloque os botões de navegação do ANDROID P em seu celular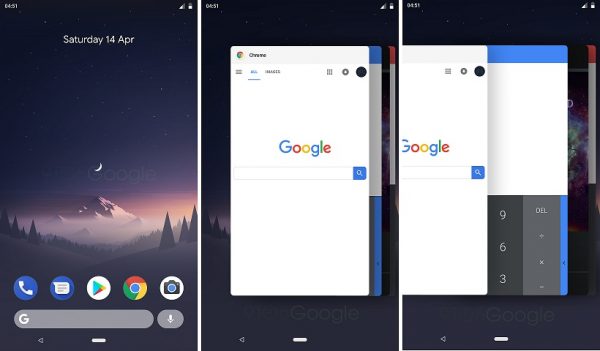 17,169 total views, 1,483 views today
O novo Android P veio com muitas animações interessantes em sua nova versão.
Uma dessas animações está nos seus botões de navegação, que veio diferente do que estamos acostumados a ver
em outros tipos de Android, que é a "setinha, bolinha e quadradinho (ou três riscos)". Mas neste artigo você vai aprender
a como adicionar os botões de navegação elegantes do Android P sem a necessidade de ter ROOT no dispositivo, apenas
usando seu PC para o feito. Lembrando que a função é PAGA, porém, vale a pena gastar uma graninha com um designer mais
atraente para seu dispositivo.
Vamos lá 😉
Passo 1: Você precisará baixar o app Custom Navigation Bar tocando no botão de download abaixo, e sem seguida (no seu PC) baixar a ferramenta ADB no link abaixo do botão de download:
Passo 2: No celular, vá até Configurações > Sobre o dispositivo > Toque em Número da Versão até que apareça "Não é necessário. Você é um desenvolvedor.". Ainda nas configurações vá até Opções do Desenvolvedor e marque a Depuração USB e volte para o aplicativo Custom Navigation Bar;
Abra o aplicativo e toque na seta amarela para avançar;
Escolha o método para utilizar o app, com ADB (PC), ROOT ou Xposed;
Neste caso escolha o Grant using PC;
Conecte seu Dispositivo via USB em seu PC.
Passo 3: Agora no PC, abra o instalador ADB-setup e quando abrir uma janela de comando AZUL, digite a letra "Y" e dê Enter em cada uma das frases, exemplo:
Do you want to install ADB and Fastboot? (Digite "Y" e dê enter)
Install ADB system-wide? (Digite "Y" e dê enter)
Do you want to install device drivers? (Digite "Y" e dê enter).
Passo 4: Agora, fora da pasta platform-tools juntamente com o botão Shift pressionado dê um clique com botão direito em cima da pasta e depois clique em "abrir uma janela de comando aqui"  e quando abrir a janela de comando, digite sem aspas "adb shell" e dê enter, veja seu celular e autorize a depuração USB dando OK:
Passo 5: Quando aparecer o modelo de seu dispositivo na janela de comando, copie o seguinte comando abaixo e cole na janela de comando apertando Enter em seguida:
pm grant xyz.paphonb.systemuituner android.permission.WRITE_SECURE_SETTINGS
No Celular
Passo 1: Já no aplicativo estará escrito "Safety First" é só tocar no botão Start, depois vai pedir para tocar no botão "next" que estará na sua barra de navegação e depois em "finish".
Passo 2: Vá até "Navigation Bar" e vá até "Theme" e escolha o tema do Android P e dê OK. Lembrando que para funcionar você precisa comprar a versão PRO que é bem baratinho, é só tocar em comprar, preencher seus dados e pronto:
Dica: Caso queira mudar o Layout dos ícones dos botões, é só tocar em Navigation Bar > Layout:
Gostou desta dica? Não se esqueça de comentar, compartilhar e me seguir lá no
Insta: @FabioRodriguesBarroso 😉