Conheça solução inteligente ao uso de Cabos USB no smartphone
641 total views, 10 views today
Não aguenta mais usar cabo USB, eu sei como é complicado depender do Cabo USB para transferir arquivos do seu computador para o smartphone, mas nós temos uma dica que vai acabar com seu problema, queremos mostrar um serviço que criará um streaming privado dos arquivos do seu computador para o celular, confira o passo a passo e veja como isso funciona!
AVISO IMPORTANTE: O aplicativo é grátis por tempo limitado, depois disso é necessário comprar uma licença para poder usa-lo sem limite, para obter a versão completa, ou conhecer os planos clique aqui!
Passo 1 – Baixe o Younity no seu smartphone, seja com Android ou iOS!
Passo 2 – Depois de baixado, crie uma conta no serviço usando Facebook ou email!
Passo 3 – Instale o software em seu computador equipado com Windows ou até mac!
Passo 4 – Depois de instalado, entre com a conta configurada no smartphone, e aguarde a sincronização!
Com o aplicativo você pode transmitir Músicas, fotos e vídeos para o Chromecast, veja como fazer:
Passo 1 – Abra o aplicativo e navegue até o arquivo que deseja transmitir (música, vídeo ou foto)
Passo 2 – Selecione o arquivo que deseja reproduzir e clique no ícone Chromecast no canto superior direito.
Você pode desfrutar de muitas outras funções dentro do aplicativo, confira quais:
TRANSMITA SEUS VÍDEOS E MÚSICAS
Transmita qualquer filme, vídeo ou vídeo da GoPro de seus computadores para seus dispositivos móveis
Transmita toda sua coleção musical e listas de reprodução de seus computadores para seus dispositivos móveis
Acesse todas suas músicas do iTunes em seus dispositivos Android
Junte suas bibliotecas do iTunes em diversos computadores
Transmita músicas para auto-falantes através do bluetooth
ACESSE TODAS AS SUAS FOTOS
Acesse todas as fotos armazenadas em seus computadores usando seus dispositivos móveis
Acesse todo seu catálogo do Adobe Lightroom, incluindo Pastas, Coleções e Conjuntos
Acesse toda sua biblioteca do Apple Photos
Publique fotos armazenadas em seu computador nas mídias sociais
ACESSE TODOS OS SEUS DOCUMENTOS
Acesse todos os seus documentos de vários computadores
Mantenha arquivos grandes fora de seu telefone, mas ainda tenha acesso a eles
UNIFIQUE VÁRIOS COMPUTADORES
Unifique todo o conteúdo de seus computadores em um menu organizado
Junte bibliotecas de mídia de todos os seus computadores e acesse todas as mídias através de um menu
Pesquise todo seu conteúdo de uma vez em todos os seus dispositivos
SEGURO E PRIVADO
Todos os seus arquivos permanecem seguros e privados em seus dispositivos.
O younity é um servidor de mídia caseiro com ""zero conhecimento"" – seus arquivos e metadados de arquivos nunca são armazenados online.
OUTRAS COISAS LEGAIS:
O younity funciona em várias plataformas, então é possível conectá-lo tanto em computadores Mac quanto PC
Não há necessidade de fazer upload ou sincronização para acessar suas mídias ou arquivos
E muito mais.. Gostou? Compartilhe com seus amigos e em suas redes sociais!
FUNÇÃO DO NOVO ANDROID! Coloque os botões de navegação do ANDROID P em seu celular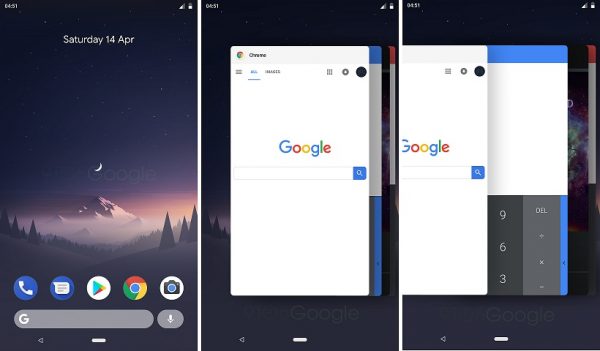 17,150 total views, 1,464 views today
O novo Android P veio com muitas animações interessantes em sua nova versão.
Uma dessas animações está nos seus botões de navegação, que veio diferente do que estamos acostumados a ver
em outros tipos de Android, que é a "setinha, bolinha e quadradinho (ou três riscos)". Mas neste artigo você vai aprender
a como adicionar os botões de navegação elegantes do Android P sem a necessidade de ter ROOT no dispositivo, apenas
usando seu PC para o feito. Lembrando que a função é PAGA, porém, vale a pena gastar uma graninha com um designer mais
atraente para seu dispositivo.
Vamos lá 😉
Passo 1: Você precisará baixar o app Custom Navigation Bar tocando no botão de download abaixo, e sem seguida (no seu PC) baixar a ferramenta ADB no link abaixo do botão de download:
Passo 2: No celular, vá até Configurações > Sobre o dispositivo > Toque em Número da Versão até que apareça "Não é necessário. Você é um desenvolvedor.". Ainda nas configurações vá até Opções do Desenvolvedor e marque a Depuração USB e volte para o aplicativo Custom Navigation Bar;
Abra o aplicativo e toque na seta amarela para avançar;
Escolha o método para utilizar o app, com ADB (PC), ROOT ou Xposed;
Neste caso escolha o Grant using PC;
Conecte seu Dispositivo via USB em seu PC.
Passo 3: Agora no PC, abra o instalador ADB-setup e quando abrir uma janela de comando AZUL, digite a letra "Y" e dê Enter em cada uma das frases, exemplo:
Do you want to install ADB and Fastboot? (Digite "Y" e dê enter)
Install ADB system-wide? (Digite "Y" e dê enter)
Do you want to install device drivers? (Digite "Y" e dê enter).
Passo 4: Agora, fora da pasta platform-tools juntamente com o botão Shift pressionado dê um clique com botão direito em cima da pasta e depois clique em "abrir uma janela de comando aqui"  e quando abrir a janela de comando, digite sem aspas "adb shell" e dê enter, veja seu celular e autorize a depuração USB dando OK:
Passo 5: Quando aparecer o modelo de seu dispositivo na janela de comando, copie o seguinte comando abaixo e cole na janela de comando apertando Enter em seguida:
pm grant xyz.paphonb.systemuituner android.permission.WRITE_SECURE_SETTINGS
No Celular
Passo 1: Já no aplicativo estará escrito "Safety First" é só tocar no botão Start, depois vai pedir para tocar no botão "next" que estará na sua barra de navegação e depois em "finish".
Passo 2: Vá até "Navigation Bar" e vá até "Theme" e escolha o tema do Android P e dê OK. Lembrando que para funcionar você precisa comprar a versão PRO que é bem baratinho, é só tocar em comprar, preencher seus dados e pronto:
Dica: Caso queira mudar o Layout dos ícones dos botões, é só tocar em Navigation Bar > Layout:
Gostou desta dica? Não se esqueça de comentar, compartilhar e me seguir lá no
Insta: @FabioRodriguesBarroso 😉