Como proteger sua vida digital no iOS e Android
614 total views, 4 views today
Sabia que quando você se conecta a uma rede Wifi publica, como por exemplo a de um Shopping, os seus dados estão a vista e podem ser acessador por qualquer um espertinho, vazando seus dados, senhas e até mesmo dados bancários. O perigo corre a solta, mas podemos evitar, basta seguir uma dessas dicas dadas hoje. Você tem filhos, ou uma pessoal em questão e você quer monitorar ou regular o que essa pessoa deve acessar na internet? esta é mais uma funcionalidade de muitas que serão mostradas nesta matéria, outras funções são de rastrear o seu celular que talvez foi furtado, podendo apagar os seus dados afim de evitar que eles caiam em mãos erradas. Outra função é a de ter 5GB de armazenamento em nuvem totalmente gratuito, enfim tudo isto esta disponível em uma aplicação recentemente lançada nas lojas Google Play e App Store.
Conheça as funções do aplicativo por meio de um vídeo
Quais serviços são disponibilizados?
O aplicativo chama-se HERO e esta disponível para as plataformas Android e Ios, o objetivo principal da aplicação é proteger os dados do usuários, impedindo que invasores roubem seus dados quando estiver conectado a uma rede Wifi, ou se o seu aparelho for furtado você poderá solicitar o bloqueio do aparelho ou se preferir efetuar a localização e até mesmo apagar todos os seus arquivos. Com ele também podemos vigiar o que usuários que são cadastrados como "família" acessam, podendo definir o que cada um deve acessar na internet, pode ser útil para pais que temem que seus filhos acessem materiais indevidos. O aplicativo possui um armazenamento de nuvem com 5GB de espaço para ser utilizado de forma gratuita, ele possui também um navegador, e um sistema de checagem de anti vírus.
Vale a pena?
Com o aplicativo você tem muitas vantagens como foram citadas acima, mas podemos ter uma conclusão do que ele nos deixou perceber. O HERO é uma forma fácil de proteger seus dados como senhas, dados bancários entre outras coisas, com ele podemos armazenar nossos arquivos na nuvem com um limite de 5GB lembrando que estes dados estarão sobre responsabilidade da empresa que administra o aplicativo e seus serviços, ele possibilita efetuarmos o rastreamento e bloqueio do aparelho caso seja roubado, podemos controlar o que nossos familiares acessam.
Se você quer se sentir "seguro" vale sim a pena utilizar os serviços gratuitos desta aplicação, pois é melhor prevenir do que remediar não é verdade? mas… podemos confiar toda a nossa vida digital neste tipo de serviço? … Sim, recomendo que vocês tenham mais cuidado com o que fazem na internet, pois atitudes bobas podem te trazer grandes e terríveis consequências, a primeira dica que dou é: não acesse um Wifi público se não possuir uma rede VPN, não acesse sites desconhecidos, sempre sai de suas redes sociais ao sair do serviço em questão, não instale aplicativos fora de sua loja, verifique antes quais as permissões e antecedentes que esse aplicativo busca em seu aparelho. São dicas bem básicas, mas que podem fazer uma grande diferença, e o que nos possibilita quase tudo isto é o aplicativo HERO.
DOWNLOAD
Gostou? Compartilhe com os seus amigos e até a próxima!!! 😀
FUNÇÃO DO NOVO ANDROID! Coloque os botões de navegação do ANDROID P em seu celular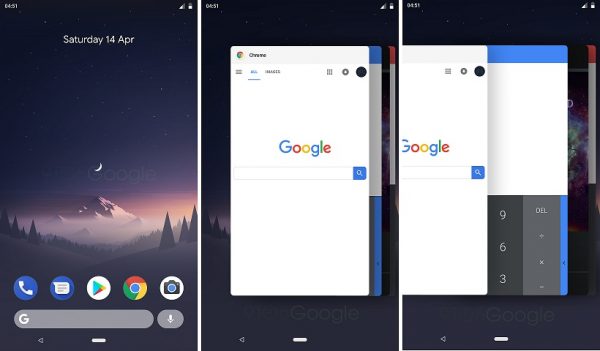 17,110 total views, 1,424 views today
O novo Android P veio com muitas animações interessantes em sua nova versão.
Uma dessas animações está nos seus botões de navegação, que veio diferente do que estamos acostumados a ver
em outros tipos de Android, que é a "setinha, bolinha e quadradinho (ou três riscos)". Mas neste artigo você vai aprender
a como adicionar os botões de navegação elegantes do Android P sem a necessidade de ter ROOT no dispositivo, apenas
usando seu PC para o feito. Lembrando que a função é PAGA, porém, vale a pena gastar uma graninha com um designer mais
atraente para seu dispositivo.
Vamos lá 😉
Passo 1: Você precisará baixar o app Custom Navigation Bar tocando no botão de download abaixo, e sem seguida (no seu PC) baixar a ferramenta ADB no link abaixo do botão de download:
Passo 2: No celular, vá até Configurações > Sobre o dispositivo > Toque em Número da Versão até que apareça "Não é necessário. Você é um desenvolvedor.". Ainda nas configurações vá até Opções do Desenvolvedor e marque a Depuração USB e volte para o aplicativo Custom Navigation Bar;
Abra o aplicativo e toque na seta amarela para avançar;
Escolha o método para utilizar o app, com ADB (PC), ROOT ou Xposed;
Neste caso escolha o Grant using PC;
Conecte seu Dispositivo via USB em seu PC.
Passo 3: Agora no PC, abra o instalador ADB-setup e quando abrir uma janela de comando AZUL, digite a letra "Y" e dê Enter em cada uma das frases, exemplo:
Do you want to install ADB and Fastboot? (Digite "Y" e dê enter)
Install ADB system-wide? (Digite "Y" e dê enter)
Do you want to install device drivers? (Digite "Y" e dê enter).
Passo 4: Agora, fora da pasta platform-tools juntamente com o botão Shift pressionado dê um clique com botão direito em cima da pasta e depois clique em "abrir uma janela de comando aqui"  e quando abrir a janela de comando, digite sem aspas "adb shell" e dê enter, veja seu celular e autorize a depuração USB dando OK:
Passo 5: Quando aparecer o modelo de seu dispositivo na janela de comando, copie o seguinte comando abaixo e cole na janela de comando apertando Enter em seguida:
pm grant xyz.paphonb.systemuituner android.permission.WRITE_SECURE_SETTINGS
No Celular
Passo 1: Já no aplicativo estará escrito "Safety First" é só tocar no botão Start, depois vai pedir para tocar no botão "next" que estará na sua barra de navegação e depois em "finish".
Passo 2: Vá até "Navigation Bar" e vá até "Theme" e escolha o tema do Android P e dê OK. Lembrando que para funcionar você precisa comprar a versão PRO que é bem baratinho, é só tocar em comprar, preencher seus dados e pronto:
Dica: Caso queira mudar o Layout dos ícones dos botões, é só tocar em Navigation Bar > Layout:
Gostou desta dica? Não se esqueça de comentar, compartilhar e me seguir lá no
Insta: @FabioRodriguesBarroso 😉