Como configurar qualquer roteador pelo celular
12,573 total views, 20 views today
Normalmente quando compramos um roteador nós fazemos sua configuração através do computador, mas você sabia que esse processo também pode ser realizado através de seu smartphone?
Confira o passo a passo completo em vídeo:
É claro que quando pensamos nisso imaginamos um processo trabalhoso, mas acredite, configurar um roteador wi-fi através de um dispositivo móvel é mais fácil do que imaginamos; para quem você obtenha êxito ao realizar a configuração, é importante que você siga corretamente o passo a passo descrito abaixo e tenha em mãos os itens solicitados.
---
 PASSO A PASSO
1°PASSO:
Após conectar seu roteador na tomada e ligar os cabos corretamente pegue seu celular. em seguida conecte-se à sua rede ( ainda não configurada ).
2°PASSO:
Agora você terá que acessar a tela de configuração do seu roteador, para isso procure pelo seu modelo na internet, normalmente costuma ser: 192.168.0.1 mas isso pode variar de acordo com cada modelo. Feito isso coloque ( caso peça ) uma senha e um nome de usuário, eles serão pedidos assim que você for logar nas configurações.
3°PASSO:
No campo de " Nome de Usuário " coloque os dados que você utilizou no passo anterior. Mas normalmente essas configurações vem com o nome de " Admin " como padrão, coloque esse e na senha " Admin " também; em alguns modelos você deve deixar o nome Admin e senha em branco, tente as três alternativas mencionadas. ( Esses dados também estão disponíveis na parte de baixo do roteador ou na caixa do mesmo )
4°PASSO:
Aqui nós temos a interface inicial do roteador, lembrando que o nosso modelo é o D-Link Dir 610, mas em cada roteador, marca e modelo essa interface poderá ser diferente da que estamos apresentando no vídeo e na imagem abaixo; mas normalmente esse processo costuma ser muito semelhante em todos os modelos disponíveis no mercado, alternando apenas no nome e no layout da página de configuração.
5°PASSO:
Chegamos em um ponto fundamental para que você consiga configurar seu roteador, agora nós iremos escolher o tipo de conexão, para isso vá até: Configurações  > Próximo > Tipo de conexão WAN > Selecione uma opção
6°PASSO:
Após selecionar uma opção no passo anterior chegou a hora de configurar o Wi-Fi, nome, senha etc..
O nome da sua rede vai de acordo com sua preferência, mas na senha nós recomendamos que você coloque diversos caracteres, afim de evitar possíveis invasões em sua rede.
---
Se você gostou compartilhe com seus amigos, eles podem gostar também! 😉
FUNÇÃO DO NOVO ANDROID! Coloque os botões de navegação do ANDROID P em seu celular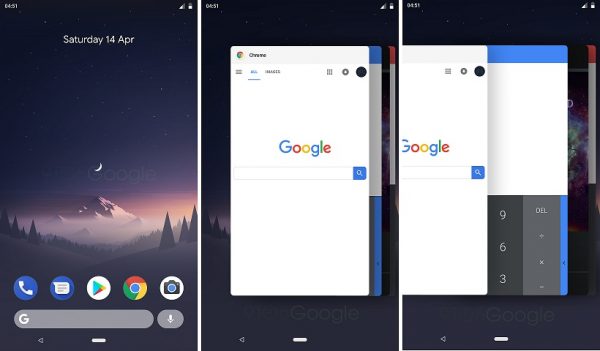 16,305 total views, 619 views today
O novo Android P veio com muitas animações interessantes em sua nova versão.
Uma dessas animações está nos seus botões de navegação, que veio diferente do que estamos acostumados a ver
em outros tipos de Android, que é a "setinha, bolinha e quadradinho (ou três riscos)". Mas neste artigo você vai aprender
a como adicionar os botões de navegação elegantes do Android P sem a necessidade de ter ROOT no dispositivo, apenas
usando seu PC para o feito. Lembrando que a função é PAGA, porém, vale a pena gastar uma graninha com um designer mais
atraente para seu dispositivo.
Vamos lá 😉
Passo 1: Você precisará baixar o app Custom Navigation Bar tocando no botão de download abaixo, e sem seguida (no seu PC) baixar a ferramenta ADB no link abaixo do botão de download:
Passo 2: No celular, vá até Configurações > Sobre o dispositivo > Toque em Número da Versão até que apareça "Não é necessário. Você é um desenvolvedor.". Ainda nas configurações vá até Opções do Desenvolvedor e marque a Depuração USB e volte para o aplicativo Custom Navigation Bar;
Abra o aplicativo e toque na seta amarela para avançar;
Escolha o método para utilizar o app, com ADB (PC), ROOT ou Xposed;
Neste caso escolha o Grant using PC;
Conecte seu Dispositivo via USB em seu PC.
Passo 3: Agora no PC, abra o instalador ADB-setup e quando abrir uma janela de comando AZUL, digite a letra "Y" e dê Enter em cada uma das frases, exemplo:
Do you want to install ADB and Fastboot? (Digite "Y" e dê enter)
Install ADB system-wide? (Digite "Y" e dê enter)
Do you want to install device drivers? (Digite "Y" e dê enter).
Passo 4: Agora, fora da pasta platform-tools juntamente com o botão Shift pressionado dê um clique com botão direito em cima da pasta e depois clique em "abrir uma janela de comando aqui"  e quando abrir a janela de comando, digite sem aspas "adb shell" e dê enter, veja seu celular e autorize a depuração USB dando OK:
Passo 5: Quando aparecer o modelo de seu dispositivo na janela de comando, copie o seguinte comando abaixo e cole na janela de comando apertando Enter em seguida:
pm grant xyz.paphonb.systemuituner android.permission.WRITE_SECURE_SETTINGS
No Celular
Passo 1: Já no aplicativo estará escrito "Safety First" é só tocar no botão Start, depois vai pedir para tocar no botão "next" que estará na sua barra de navegação e depois em "finish".
Passo 2: Vá até "Navigation Bar" e vá até "Theme" e escolha o tema do Android P e dê OK. Lembrando que para funcionar você precisa comprar a versão PRO que é bem baratinho, é só tocar em comprar, preencher seus dados e pronto:
Dica: Caso queira mudar o Layout dos ícones dos botões, é só tocar em Navigation Bar > Layout:
Gostou desta dica? Não se esqueça de comentar, compartilhar e me seguir lá no
Insta: @FabioRodriguesBarroso 😉