Como BAIXAR e INSTALAR Digimon no Android
969 total views, 8 views today
Digimon é uma franquia de mídia japonesa, distribuída pela Bandai e foi criada por Akiyoshi Hongo. A história da franquia versa sobres criaturas digitais homônimas, habitantes de um mundo digital (nomeado digimundo). Esse mundo é feito inteiramente de dados, paralelo ao mundo real e pode ser acessado por redes ou portais intangíveis e conexões de internet.
Recentemente foi lançado uma aplicação que possibilita jogar este jogo em dispositivos com Android, e decidimos compartilhar com vocês o passo a passo de como instalar e jogar.
Veja este vídeo de como instalar o jogo
Download do jogo DIGIMON
Modo de instalação
Passo 1 _ Vá até configurações>segurança> e marque a opção de "fontes desconhecidas".
Passo 2 _ Vá até seu gerenciador de arquivos e instale o arquivo .APK do Digimon, divirta-se.
Um pouco mais
Digimon baseia-se em temas sobre monstros, ficção científica, linguagem computacional e é inspirada pela espiritualidade tradicional japonesa. A primeira temporada concebe a ideia de que seres humanos terrestres acessam um mundo digital e tecnológico paralelo,ideia que existe desde a década de 1970. Esse mundo digital, também nomeado de digimundo, é de clima maçante e cinza a princípio, mas foi mudando ao decorrer das temporadas, mantendo-se uma atmosfera opressiva e pós-apocalíptica em alguns períodos. Por vezes, as protagonistas são obrigadas a voltar à Terra e as cenas ocorrem principalmente no Japão; em particular, na cidade de Tóquio. Na terceira temporada, o cenário torna-se mais complexo, onde é definido a interação entre humanos e formas de vida digitais. Há também uma mudança na quarta temporada, quando humanos são capazes de se transformar em digimons.
FUNÇÃO DO NOVO ANDROID! Coloque os botões de navegação do ANDROID P em seu celular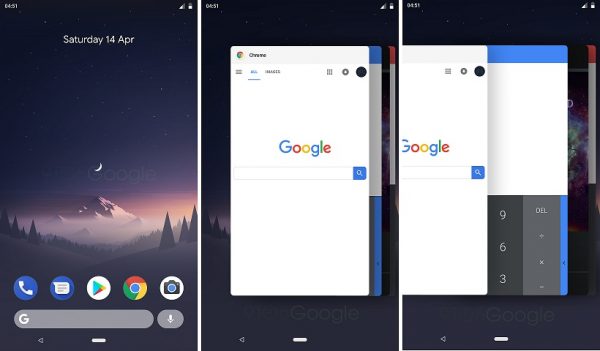 16,347 total views, 661 views today
O novo Android P veio com muitas animações interessantes em sua nova versão.
Uma dessas animações está nos seus botões de navegação, que veio diferente do que estamos acostumados a ver
em outros tipos de Android, que é a "setinha, bolinha e quadradinho (ou três riscos)". Mas neste artigo você vai aprender
a como adicionar os botões de navegação elegantes do Android P sem a necessidade de ter ROOT no dispositivo, apenas
usando seu PC para o feito. Lembrando que a função é PAGA, porém, vale a pena gastar uma graninha com um designer mais
atraente para seu dispositivo.
Vamos lá 😉
Passo 1: Você precisará baixar o app Custom Navigation Bar tocando no botão de download abaixo, e sem seguida (no seu PC) baixar a ferramenta ADB no link abaixo do botão de download:
Passo 2: No celular, vá até Configurações > Sobre o dispositivo > Toque em Número da Versão até que apareça "Não é necessário. Você é um desenvolvedor.". Ainda nas configurações vá até Opções do Desenvolvedor e marque a Depuração USB e volte para o aplicativo Custom Navigation Bar;
Abra o aplicativo e toque na seta amarela para avançar;
Escolha o método para utilizar o app, com ADB (PC), ROOT ou Xposed;
Neste caso escolha o Grant using PC;
Conecte seu Dispositivo via USB em seu PC.
Passo 3: Agora no PC, abra o instalador ADB-setup e quando abrir uma janela de comando AZUL, digite a letra "Y" e dê Enter em cada uma das frases, exemplo:
Do you want to install ADB and Fastboot? (Digite "Y" e dê enter)
Install ADB system-wide? (Digite "Y" e dê enter)
Do you want to install device drivers? (Digite "Y" e dê enter).
Passo 4: Agora, fora da pasta platform-tools juntamente com o botão Shift pressionado dê um clique com botão direito em cima da pasta e depois clique em "abrir uma janela de comando aqui"  e quando abrir a janela de comando, digite sem aspas "adb shell" e dê enter, veja seu celular e autorize a depuração USB dando OK:
Passo 5: Quando aparecer o modelo de seu dispositivo na janela de comando, copie o seguinte comando abaixo e cole na janela de comando apertando Enter em seguida:
pm grant xyz.paphonb.systemuituner android.permission.WRITE_SECURE_SETTINGS
No Celular
Passo 1: Já no aplicativo estará escrito "Safety First" é só tocar no botão Start, depois vai pedir para tocar no botão "next" que estará na sua barra de navegação e depois em "finish".
Passo 2: Vá até "Navigation Bar" e vá até "Theme" e escolha o tema do Android P e dê OK. Lembrando que para funcionar você precisa comprar a versão PRO que é bem baratinho, é só tocar em comprar, preencher seus dados e pronto:
Dica: Caso queira mudar o Layout dos ícones dos botões, é só tocar em Navigation Bar > Layout:
Gostou desta dica? Não se esqueça de comentar, compartilhar e me seguir lá no
Insta: @FabioRodriguesBarroso 😉