Adicione todos os jogos da Copa do Mundo da Rússia na sua Agenda
36,849 total views, 37 views today
Tá certo que a Copa do Mundo da Rússia já começou, mas ainda tem muita gente que não sabe ao certo as datas dos jogos.
Mas não é só por isso que você vai ficar sem saber ao certo que dia é o jogo de determinado time, pois aqui no Teteu Tutors
vai aprender a como ficar mais por dentro de todos os jogos da Rússia através da sua agenda.
O método funciona para  Apple iCal, Google Agenda e Outlook Calendário.
Antes de tudo, baixe o arquivo para adicionar os jogos!
CLIQUE AQUI E FAÇA O DOWNLOAD!
Vamos lá 😉
Google Agenda:
Baixe o aplicativo do Google Agenda clicando aqui, e logo em seguida, toque neste link AQUI para poder adicionar a funcionalidade ao aplicativo para que então, todas as datas dos jogos da copa apareçam em sua agenda do Google, lhe alertando a hora e data dos próximos jogos.
Quando o download da página de jogos acabar, toque em cima dela > selecione Agenda > aguarde a sincronização e adicione todos e selecione alguma das categorias que aparecer para você:
Apple iCAl:
No app Apple iCal, o processo deve acontecer enquanto adiciona o calendário em seu app. Aqui, enquanto adiciona o calendário da URL que falamos anteriormente, vá para as configurações e verifique se a opção de "auto-refresh" está ativa.
Ela precisa estar ativada para que a sincronização seja feita sem problemas e que os jogos todos da copa, apareçam em seu dispositivo!
Outlook:
No Outlook, tudo é automático e, não é necessária nenhuma ação específica do usuário como nas ditas anteriormente. Basta apenas adicionar a URL da agenda da Copa do Mundo ao programa diretamente do site ou aplicativo. Veja abaixo sendo adicionado pelo aplicativo Outlook:
Gostou desta dica? Não se esqueça de comentar, compartilhar e me seguir lá no
Insta: @FabioRodriguesBarroso 😉
FUNÇÃO DO NOVO ANDROID! Coloque os botões de navegação do ANDROID P em seu celular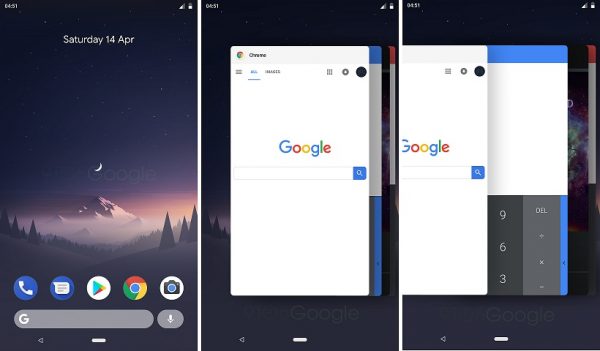 21,263 total views, 1,695 views today
O novo Android P veio com muitas animações interessantes em sua nova versão.
Uma dessas animações está nos seus botões de navegação, que veio diferente do que estamos acostumados a ver
em outros tipos de Android, que é a "setinha, bolinha e quadradinho (ou três riscos)". Mas neste artigo você vai aprender
a como adicionar os botões de navegação elegantes do Android P sem a necessidade de ter ROOT no dispositivo, apenas
usando seu PC para o feito. Lembrando que a função é PAGA, porém, vale a pena gastar uma graninha com um designer mais
atraente para seu dispositivo.
Vamos lá 😉
Passo 1: Você precisará baixar o app Custom Navigation Bar tocando no botão de download abaixo, e sem seguida (no seu PC) baixar a ferramenta ADB no link abaixo do botão de download:
Passo 2: No celular, vá até Configurações > Sobre o dispositivo > Toque em Número da Versão até que apareça "Não é necessário. Você é um desenvolvedor.". Ainda nas configurações vá até Opções do Desenvolvedor e marque a Depuração USB e volte para o aplicativo Custom Navigation Bar;
Abra o aplicativo e toque na seta amarela para avançar;
Escolha o método para utilizar o app, com ADB (PC), ROOT ou Xposed;
Neste caso escolha o Grant using PC;
Conecte seu Dispositivo via USB em seu PC.
Passo 3: Agora no PC, abra o instalador ADB-setup e quando abrir uma janela de comando AZUL, digite a letra "Y" e dê Enter em cada uma das frases, exemplo:
Do you want to install ADB and Fastboot? (Digite "Y" e dê enter)
Install ADB system-wide? (Digite "Y" e dê enter)
Do you want to install device drivers? (Digite "Y" e dê enter).
Passo 4: Agora, fora da pasta platform-tools juntamente com o botão Shift pressionado dê um clique com botão direito em cima da pasta e depois clique em "abrir uma janela de comando aqui"  e quando abrir a janela de comando, digite sem aspas "adb shell" e dê enter, veja seu celular e autorize a depuração USB dando OK:
Passo 5: Quando aparecer o modelo de seu dispositivo na janela de comando, copie o seguinte comando abaixo e cole na janela de comando apertando Enter em seguida:
pm grant xyz.paphonb.systemuituner android.permission.WRITE_SECURE_SETTINGS
No Celular
Passo 1: Já no aplicativo estará escrito "Safety First" é só tocar no botão Start, depois vai pedir para tocar no botão "next" que estará na sua barra de navegação e depois em "finish".
Passo 2: Vá até "Navigation Bar" e vá até "Theme" e escolha o tema do Android P e dê OK. Lembrando que para funcionar você precisa comprar a versão PRO que é bem baratinho, é só tocar em comprar, preencher seus dados e pronto:
Dica: Caso queira mudar o Layout dos ícones dos botões, é só tocar em Navigation Bar > Layout:
Gostou desta dica? Não se esqueça de comentar, compartilhar e me seguir lá no
Insta: @FabioRodriguesBarroso 😉