7 dicas e truques para o Youtube que precisa conhecer
788 total views, 5 views today
Você sabia que existem uma série de dicas e truques no Youtube que facilitam muito a utilização do site, seja no dia a dia, ou mesmo em qualquer outro período essas dicas valem muito a pena de serem utilizadas, você ganhará mais produtividade em suas pesquisas, compartilhamento de vídeos, vai encontrar os melhores e mais populares vídeos do site, e ainda vai conhecer uma porção de outras dicas ( uma delas inclusive para criador de vídeos para o Youtube ) confira então mais um artigo completo sobre Youtube aqui do nosso site, como sempre o vídeo completo realizado em nosso canal oficial do Youtube você encontrará no final do artigo!
Antes de qualquer coisa..
Assista o vídeo disponibilizado abaixo, onde você encontrará uma porção de outras dicas super interessantes que tenho certeza que irão complementar seu conhecimento no Youtube!
Assistiu? então confira o artigo agora!
1 – Compartilhar um vídeo em qualquer ponto
Nem todo mundo quer assistir a um vídeo completo, ligar para o local exato que você achou mais divertido em vez de fazer seus amigos ou família assistir o vídeo completo. Para fazer isso chegar ao local desejado e pausar o vídeo. Depois fez uma pausa clique direito do mouse no vídeo e selecioneObter URL do vídeo no tempo atual e copie o link criado.
Alternativamente, você pode adicionar manualmente o tempo, adicionando "# t = XXmXXs" no final do URL, onde xxM são os minutos, e XXs são os segundos para o vídeo que você deseja iniciar. Por exemplo:
Se tornaria:
https://www.youtube.com/watch?v=MKVWBUwoV4o#t=33s
2 – Descubra o que é popular no YouTube
YouTube pode ser um ótimo lugar para encontrar os vídeos mais populares por causa de sua popularidade. Visite o Popular no YouTube para encontrar os mais recentes vídeos populares, vídeos de música lançados recentemente,mais bonitos, eventos e muito mais.
Para saber quais são os vídeos mais populares do Youtube, música lançados recentemente postados, e mais bonitos do YOUTUBE BRASIL, visite Popular no YouTube Brasil!
3 – Adicionar vídeos para assistir mais tarde
Às vezes você simplesmente não tem tempo para assistir a um vídeo ou talvez você apenas não sente como assistir a uma hora de duração de vídeo no momento. em cada uma das miniaturas de vídeos no YouTube também mostra o ícone do relógio Mais tarde, quando colocamos o cursor do mouse em cima!
4- Tire vantagem de filtros de pesquisa
YouTube geralmente faz um ótimo trabalho dando-lhe os resultados da pesquisa, mas nem sempre é perfeito. Tire todo o proveito dos seus filtros de pesquisa, clicando no botão Filtros para obter uma lista como a mostrada abaixo. Na lista de filtros que você pode refinar as pesquisas para quando o vídeo foi carregado, duração do vídeo, a contagem de vista, e recursos como HD (alta definição) e 3D.
5 – Assista eventos ao vivo no YouTube
YouTube não é apenas pré-gravado vídeos enviados agora eles também apresentam YouTube ao vivo, que tem eventos ao vivo, esportes, notícias, jogos, música, educação e muito mais.
6 – Tire o máximo proveito das ferramentas do YouTube
Muitas pessoas não sabem que o YouTube também tem vários votos ferramentas do YouTube que podem ajudar extremamente útil quando a criação de novos conteúdos.Por exemplo, o editor YouTube permite que você edite vídeos enviados, criar vídeos, e ajustar as configurações, como o brilho e contraste, pan e zoom, estabilizar, câmera lenta, e rotação. Outras ferramentas incluem um criador Slideshow, captura YouTube, Legendas, Biblioteca Áudio e YouTube Analytics.
7 – Assista vídeos com restrições de região
Alguns vídeos podem ter restrições que os impedem de jogar em um determinado dispositivo, jogando em uma determinada região, ou outras restrições que impedem a reprodução do vídeo. Você pode ignorar algumas dessas restrições, alterando a forma como a URL é digitado na barra de endereços.
Por exemplo, copie o ID do vídeo (mostrado em vermelho) na URL.
https://www.youtube.com/watch/?v= dD40VXFkusw
Uma vez que o ID do vídeo foi copiado apagar tudo depois do .com / e adicionar "v / <id>" onde id é o que foi copiado anteriormente. Uma vez feito isso seu URL deve ser semelhante ao exemplo mostrado abaixo.
https://www.youtube.com/ v / dD40VXFkusw
Carregando este URL abre o vídeo em tela inteira, mas por causa de como ele é carregado muitas das restrições YouTube pode ter sobre o vídeo são ignorados.
FUNÇÃO DO NOVO ANDROID! Coloque os botões de navegação do ANDROID P em seu celular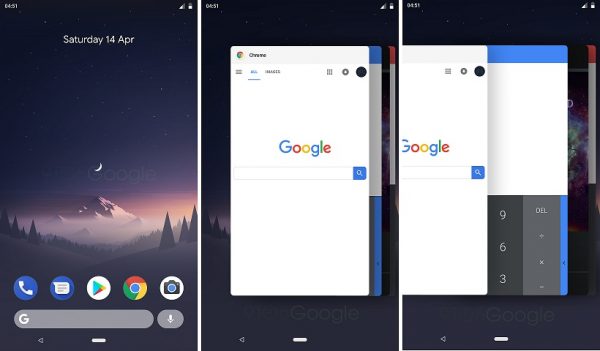 16,374 total views, 688 views today
O novo Android P veio com muitas animações interessantes em sua nova versão.
Uma dessas animações está nos seus botões de navegação, que veio diferente do que estamos acostumados a ver
em outros tipos de Android, que é a "setinha, bolinha e quadradinho (ou três riscos)". Mas neste artigo você vai aprender
a como adicionar os botões de navegação elegantes do Android P sem a necessidade de ter ROOT no dispositivo, apenas
usando seu PC para o feito. Lembrando que a função é PAGA, porém, vale a pena gastar uma graninha com um designer mais
atraente para seu dispositivo.
Vamos lá 😉
Passo 1: Você precisará baixar o app Custom Navigation Bar tocando no botão de download abaixo, e sem seguida (no seu PC) baixar a ferramenta ADB no link abaixo do botão de download:
Passo 2: No celular, vá até Configurações > Sobre o dispositivo > Toque em Número da Versão até que apareça "Não é necessário. Você é um desenvolvedor.". Ainda nas configurações vá até Opções do Desenvolvedor e marque a Depuração USB e volte para o aplicativo Custom Navigation Bar;
Abra o aplicativo e toque na seta amarela para avançar;
Escolha o método para utilizar o app, com ADB (PC), ROOT ou Xposed;
Neste caso escolha o Grant using PC;
Conecte seu Dispositivo via USB em seu PC.
Passo 3: Agora no PC, abra o instalador ADB-setup e quando abrir uma janela de comando AZUL, digite a letra "Y" e dê Enter em cada uma das frases, exemplo:
Do you want to install ADB and Fastboot? (Digite "Y" e dê enter)
Install ADB system-wide? (Digite "Y" e dê enter)
Do you want to install device drivers? (Digite "Y" e dê enter).
Passo 4: Agora, fora da pasta platform-tools juntamente com o botão Shift pressionado dê um clique com botão direito em cima da pasta e depois clique em "abrir uma janela de comando aqui"  e quando abrir a janela de comando, digite sem aspas "adb shell" e dê enter, veja seu celular e autorize a depuração USB dando OK:
Passo 5: Quando aparecer o modelo de seu dispositivo na janela de comando, copie o seguinte comando abaixo e cole na janela de comando apertando Enter em seguida:
pm grant xyz.paphonb.systemuituner android.permission.WRITE_SECURE_SETTINGS
No Celular
Passo 1: Já no aplicativo estará escrito "Safety First" é só tocar no botão Start, depois vai pedir para tocar no botão "next" que estará na sua barra de navegação e depois em "finish".
Passo 2: Vá até "Navigation Bar" e vá até "Theme" e escolha o tema do Android P e dê OK. Lembrando que para funcionar você precisa comprar a versão PRO que é bem baratinho, é só tocar em comprar, preencher seus dados e pronto:
Dica: Caso queira mudar o Layout dos ícones dos botões, é só tocar em Navigation Bar > Layout:
Gostou desta dica? Não se esqueça de comentar, compartilhar e me seguir lá no
Insta: @FabioRodriguesBarroso 😉