12 DICAS E TRUQUES PARA A INTERFACE MIUI 8
9,811 total views, 20 views today
Usar smartphones é uma aventura que todo mundo gosta, mas aproveitar a fundo as funções que ele possui, só os melhores conseguem. Visando tornar você um membro desse grupo seleto, separei 12 dicas da interface MiUi que todo dono de smartphones Xiaomi precisa conhecer.
Se você não sabe o que é MiUi, irei te explicar. Trata-se da interface personalizada do Android que vem instalada em celulares da marca chinesa Xiaomi, que inclusive já teve uma filial aqui no Brasil mas infelizmente sofreu um game over. Essa interface faz bastante sucesso entre os usuários por ter um layout bem parecido com o do iOS, o que deixa a usabilidade muito melhor para quem está fazendo a transição do sistema da Apple para o do Google.
As dicas desse post são para a versão 8 da MiUi, mas algumas podem ser úteis para versão anteriores e posteriores também. Veja cada uma delas explicadas abaixo!
1 – Duplicar apps: Se você usa 2 contas das suas redes sociais, você pode duplicar o seus aplicativos sem instalar mais nada. Basta ir em Configurar>Apps Clonados. Escolha o app que você deseja duplicar e clique no botão de ativação ao lado dele. Quando a clonagem terminar, o app vai aparecer na sua tela inicial com um ícone amarelo na logo para diferenciar do app padrão. Para desinstalar, basta ir novamente em Configurar>Apps Clonados e clicar no botão para desabilitar a opção.
2 – Crie um segundo perfil no seu smartphone. Assim como já é possível em PCs e alguns aparelhos desde a versão 5.0 do Android, na MiUi você pode criar um segundo espaço para melhorar a usabilidade e segurança, caso o seu celular seja compartilhado com outra pessoa. Basta ir em Configurar>Segundo Espaço e realizar as configurações de desbloqueio por senha ou digital e começar a utilizar. Vale lembrar que a conta pode ser diferente, mas ambas usarão o mesmo armazenamento, então aprecie da sua "liberdade" com moderação.
3 – Compartilhar o seu Wifi é uma tarefa bem fácil com a MiUi, e fica mais segura pelo método utilizado: QRCode. Para compartilhar a sua rede, vá até Configurar>Wi-Fi>Escolha a sua rede e clique encima dela. Ao clicar aparecerá o QRCode, mostre para o seu amigo fotografar via câmera ou qualquer app que escaneie esse tipo de código para que ele possa ter acesso a sua rede e voltar a civilização conectada.
4 – É possível personalizar o ícone de bateria do seu celular. Existem 3 modelos diferentes: o padrão que é o estilo pilha ou gráfico, o modelo parecido com o padrão só que com a porcentagem de carga e o modelo de barra no topo, que vai diminuindo conforme a carga vai indo embora. Para escolher entre as opções, vá em Configurar>Notificações & Barra de Status>Indicador de Bateria, escolha entre um dos 3 modelos para adaptar o seu celular ao que mais te agrada.
5 – Para personalizar a sua launcher, vá até a Tela Inicial e arraste os dedos indicador e polegar em forma de pinça se fechando. Aparecerão algumas opções para você configurar a organização dos ícones, alterar tema, adicionar widgets entre outras opções.
6 – Se você tem mãos pequenas, assim como eu, essa dica é pra você! Para reduzir a área de uso da tela é no modo Uma Mão. Para ativar, basta ir em  Configurar>Configurações Adicionais>Modo Para uma Mão, selecione quantas polegadas você quer que a tela tenha entre as opções disponíveis de 3.5, 4.0 e 4.5 polegadas. Para ativar o modo, basta passar o dedo suavemente do botão "Home" para o "Voltar", assim a tela ficará toda do lado direito ou do botão "Home" para o "Multitarefas", assim a tela ficará toda do lado esquerdo. Para sair do modo uma mão, basta clicar na área sem uso da tela e o celular voltará para a configuração padrão.
7 – Para tirar prints estendidos, que são aqueles prints da página inteira, basta você clicar no botão Power e Volume – ou na barra de no ícone "Capturar Tela". Após tirar o screenshot, clique nele e escolha a opção "Estender", que aparece embaixo da foto. Automaticamente o sistema começará a fotografar o resto da página do print. Caso a página não acabe automaticamente e você quiser parar, basta clicar em "Concluído" ou esperar o processamento da imagem.
8 – Para ativar o modo leitura e evitar ficar com as vistas cansadas, basta ir em Configurar>Tela>Modo Leitura e clicar para ativar. Esse modo também pode ser programado, basta clicar na opção "Programado" e na hora definida por você, o celular entrará nesse modo automaticamente. Essa dica é ideal para quem tem o hábito de ler e-books no seu celular, essa opção vai ser bem útil.
9 – Caso você deixar a sua barra de Status mais organizada, separando as notificações de apps dos ícones de atalho, basta ir em Configurar>Notificações & Barra de Status>Layout de Notificação & Atalhos e selecionar a opção Página Dupla. Caso queira voltar para o formato padrão da MiUi 8, é só clicar na opção "Combinada".
10 – Para alterar o plano de fundo da tela de bloqueio do seu aparelho, basta clicar no ícone parecido com um trevo de 4 folhas no canto superior direito e escolher entre uma das imagens que aparecerão. Quando encontrar a escolhida, clique no botão "Definir".
11 – Para usar o menu quick ball, estilo aquela bolinha do iPhone, basta ir em Configurar>Configurações Adicionais>Menu de Atalhos e ativar o menu. Por padrão, nele é possível ir para a tela inicial, acessar o multitarefas, bloquear o celular e tirar prints, mas você também pode configurar outros atalhos.
12 – Bloqueie os seus aplicativos de curiosos indo em Configurar>Bloqueio de Apps e escolher os aplicativos que você deseja bloquear. Para usá-los para usar a sua senha ou o leitor de digitais.
Veja também o vídeo com cada uma dessas dicas aplicadas na prática!
FUNÇÃO DO NOVO ANDROID! Coloque os botões de navegação do ANDROID P em seu celular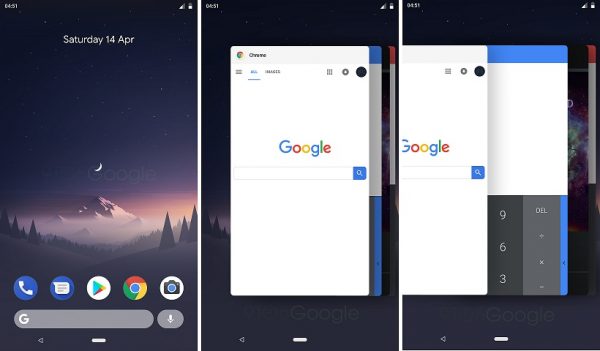 17,049 total views, 1,363 views today
O novo Android P veio com muitas animações interessantes em sua nova versão.
Uma dessas animações está nos seus botões de navegação, que veio diferente do que estamos acostumados a ver
em outros tipos de Android, que é a "setinha, bolinha e quadradinho (ou três riscos)". Mas neste artigo você vai aprender
a como adicionar os botões de navegação elegantes do Android P sem a necessidade de ter ROOT no dispositivo, apenas
usando seu PC para o feito. Lembrando que a função é PAGA, porém, vale a pena gastar uma graninha com um designer mais
atraente para seu dispositivo.
Vamos lá 😉
Passo 1: Você precisará baixar o app Custom Navigation Bar tocando no botão de download abaixo, e sem seguida (no seu PC) baixar a ferramenta ADB no link abaixo do botão de download:
Passo 2: No celular, vá até Configurações > Sobre o dispositivo > Toque em Número da Versão até que apareça "Não é necessário. Você é um desenvolvedor.". Ainda nas configurações vá até Opções do Desenvolvedor e marque a Depuração USB e volte para o aplicativo Custom Navigation Bar;
Abra o aplicativo e toque na seta amarela para avançar;
Escolha o método para utilizar o app, com ADB (PC), ROOT ou Xposed;
Neste caso escolha o Grant using PC;
Conecte seu Dispositivo via USB em seu PC.
Passo 3: Agora no PC, abra o instalador ADB-setup e quando abrir uma janela de comando AZUL, digite a letra "Y" e dê Enter em cada uma das frases, exemplo:
Do you want to install ADB and Fastboot? (Digite "Y" e dê enter)
Install ADB system-wide? (Digite "Y" e dê enter)
Do you want to install device drivers? (Digite "Y" e dê enter).
Passo 4: Agora, fora da pasta platform-tools juntamente com o botão Shift pressionado dê um clique com botão direito em cima da pasta e depois clique em "abrir uma janela de comando aqui"  e quando abrir a janela de comando, digite sem aspas "adb shell" e dê enter, veja seu celular e autorize a depuração USB dando OK:
Passo 5: Quando aparecer o modelo de seu dispositivo na janela de comando, copie o seguinte comando abaixo e cole na janela de comando apertando Enter em seguida:
pm grant xyz.paphonb.systemuituner android.permission.WRITE_SECURE_SETTINGS
No Celular
Passo 1: Já no aplicativo estará escrito "Safety First" é só tocar no botão Start, depois vai pedir para tocar no botão "next" que estará na sua barra de navegação e depois em "finish".
Passo 2: Vá até "Navigation Bar" e vá até "Theme" e escolha o tema do Android P e dê OK. Lembrando que para funcionar você precisa comprar a versão PRO que é bem baratinho, é só tocar em comprar, preencher seus dados e pronto:
Dica: Caso queira mudar o Layout dos ícones dos botões, é só tocar em Navigation Bar > Layout:
Gostou desta dica? Não se esqueça de comentar, compartilhar e me seguir lá no
Insta: @FabioRodriguesBarroso 😉