Novos Emoticons no Facebook!
480 total views, 4 views today

Um Meep aqui, um pusheen ali…. E assim vai desenvolvendo o Facebook com os novos Emoticons. Bem, parece que não são bem emoticons, mas sim como chamado pelo próprio site, Meep e Pusheen. Da onde eles tiraram esse nome? Eu não sei, mas eles são muito legais, pode ter certeza. Isso já era de ser esperado aqui no Brasil, visto que nos Estados Unidos, eles já tem emoticons novos a muito tempo.
Mas como são esses emoticons novos? São imagens que são inseridas no texto ao clicar. As imagens são comumente em tamanho 130×130 e apresentam diferentes figuras ou imagens. Abaixo mostraremos alguns exemplos desses novos emoticons, para você ter uma ideia de como eles são no bate-papo. E por favor, ajudem a divulgar o site, comentem ou sei lá. Precisamos de vocês para sempre publicarmos coisas interessantes.
***Inovando o conhecimento***
Os Meep's
São aparentemente "rostinhos amarelos" que representam feições humanas. Como as imagens da acima, colocadas propositalmente na postagem. São rostinhos felizes, tristes, intimidados, nervosos, apaixonados, brincalhões, entre outras.
 ***Inovando o conhecimento***
Procure mais no seu Facebook os emoticons e atualize-se. Sempre haverá novos emoticons a partir de agora. Obrigado facebook por fazer isso por nós, e obrigado você visitante por nos ler e divulgar. Não esqueça de comentar, por favor. É importante para nós.
ASUS Republic of Gamers anuncia Strix SCAR II e Hero II na Computex 2018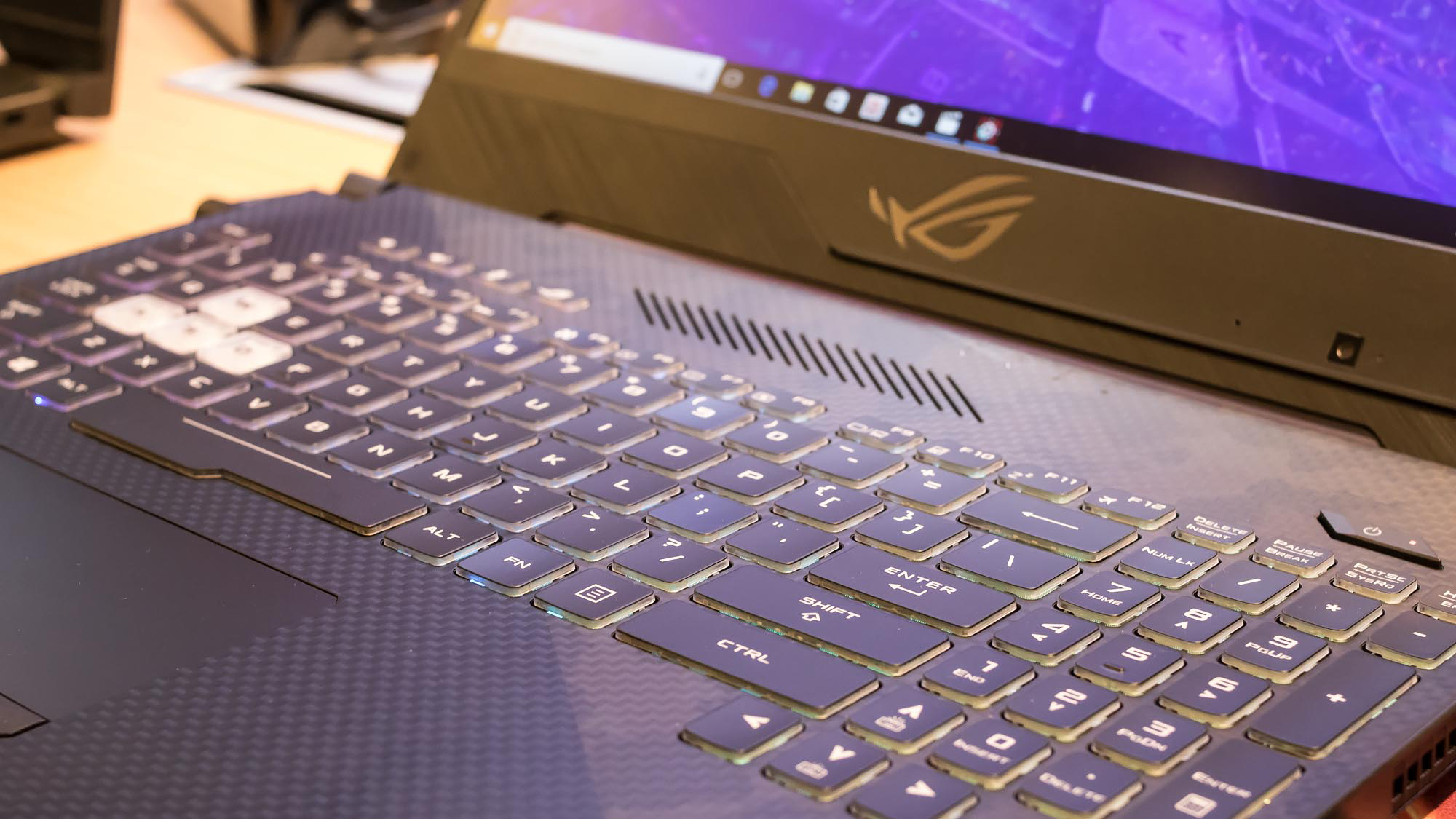 2,987 total views, 11 views today
Os notebooks gamers trazem telas finas, multi-antena Wi-Fi, tecnologia Pro HyperCool e teclados Pro HyperStrike
Taipei, 4 junho de 2018 – A ASUS Republic of Gamers (ROG) anunciou hoje o Strix SCAR II e Hero II, acompanhando o sucesso dos notebooks gamers, na coletiva de imprensa realizada na Computex 2018.
Os notebooks trazem um novo design compacto e barra de iluminação frontal com luzes Aura Sync customizadas. Os dois notebooks apresentam a primeira tela do mundo com taxa de atualização de 144 Hz, teclado Pro HyperStrike para melhor controle de jogos e tecnologia Pro HyperCool para dissipar o calor produzido pelo hardware. Os modelos também são os primeiros notebooks do mundo a apresentar Wi-Fi de antenas múltiplas para melhor conectividade.
Tela com borda ultrafina, taxa de atualização de 144Hz e tempo de resposta de 3ms GTG
Para o máximo desempenho em jogos de ritmo acelerado, os Strix SCAR II e Hero II contam com a primeira tela de borda ultrafina com taxa de atualização de 144Hz e tempo de resposta de apenas 3ms GTG. Este novo design possibilita que as dimensões sejam  reduzidas ao mínimo – ambos notebooks são 2.33 cm mais estreitos que seus antecessores. Também são mais leves, com um peso total de 2,4 kg. Uma estrutura de borracha envolve a tela para protegê-la contra danos quando a tampa é fechada, além de melhorar visualmente a espessura da moldura para uma sensação mais imersiva. A tela com taxa de atualização de 144 Hz e tempo de resposta de 3 ms garantem imagens suaves e nítidas, permitindo que os jogadores reajam instantaneamente e com precisão ao que está acontecendo no jogo.
Teclado para jogos com tecnologia Pro HyperStrike
Tanto o Strix SCAR II quanto o Hero II possuem teclado para jogos com tecnologia Pro HyperStrike para um maior comando e controle das ações. O teclado tem um layout inspirado em desktop, incluindo quatro teclas de atalho compatíveis com Aura Sync personalizável, retroiluminação RGB em quatro zonas e chaves ergonomicamente projetadas, com curvas de teclados de 0,25 mm de profundidade.
A tecnologia Overstroke exclusiva da ROG, que tem uma distância maior de curso para ações mais rápidas, precisas e sem esforços. O teclado possui grupos de teclas WASD (para SCAR II) ou QWER (para Hero II) especialmente destacados com protetores de teclas transparentes e tecnologia de rolagem N-key.
Tecnologia ROG RangeBoost para zero pontos inativos
SCAR II e Hero II são os primeiros notebooks para jogos do mundo a apresentar Wi-Fi de antenas múltiplas para jogos online mais estáveis. A tecnologia ROG RangeBoost utilza a combinação de quatro antenas – localizadas na frente e atrás do notebook – com um único algoritmo que digitaliza e seleciona o melhor par de antenas para cobrir os pontos inativos, resultando em 30% de cobertura mais ampla que as configurações de antena dupla. O mais recente padrão 802.11ac Wave 2 Wi-Fi oferece velocidades de até 1.7Gbps – o dobro do 802.11ac 2×2 e 12x do 802.11b / g / n.
Perfeito para jogos
Os novos notebooks gamers Strix são alimentados pela última geração do processador Intel® Core™ com até 32 GB de memória DDR4 2666MHz e tecnologia de gráficos NVIDIA® GeForce® GTX 1060 ou GTX 1070. Para o armazenamento, pode ser especificado com até 512GB M.2 NVMe PCIe® 3.0 x4 e uma unidade híbrida de estado sólido Seagate® FireCuda™ de 1TB (SSHD).
O processador de oito núcleos Intel Core i7-8750H da 8ª geração é 23% mais potente que os da geração anterior. As tecnologias Intel Speed Shift e Turbo Boost também impulsionam o processador para velocidades de até 4 GHz – quatro núcleos – e 3.9 GHz – seis núcleos – respectivamente. O Intel Hyper-Threading permite até 12 threads para lidar com todas as tarefas de maneira rápida e eficiente, incluindo jogos, gravações e transmissões ao vivo simultâneas. Além disso, também traz até 32 GB de memória dual-channel DDR4 2666MHz para velocidades de processamento mais rápidas e menor consumo de energia.
O SSD NVMe PCIe 3.0 x4 de 512GB M.2 oferece uma largura de banda potencial de até 32Gbps para que tudo pareça rápido e suave. Quando usado como armazenamento primário ou como uma unidade secundária para suportar o SSD, o SSH FireCuda de 5400 rpm carrega jogos em menos da metade do tempo gasto pelos HDDs de 1 TB 7200 rpm – e também é mais silencioso. O SSHD percebe os arquivos usados com mais frequência e os armazena em sua memória flash interna para agilizar as velocidades de acesso a arquivos.
Resfriamento extremo com Pro HyperCool
O sistema térmico HyperCool Pro fornece o desempenho de refrigeração para aproveitar ao máximo a CPU e a GPU de alto desempenho do notebook. Uma placa de resfriamento absorve calor e o espalha uniformemente para evitar o aquecimento térmico e manter os componentes abaixo de 90°C, enquanto dois ventiladores de 12V proporcionam fluxo de ar mais forte e maior pressão de ar para resfriar o CPU e GPU e expulsar o ar quente do chassi.
O Pro HyperCool também incorpora o sistema de refrigeração anti-poeira (ADC), que utiliza a força centrífuga para expelir partículas de poeira e sujeira do chassi. Isso evita o acúmulo nas aletas do dissipador de calor e garante uma experiência de jogo estável. As aletas especiais de cobre possuem apenas 0,1 mm de espessura – metade das aletas comuns. Isso aumenta a área de superfície para dissipação de calor em até 10% e reduz a resistência do ar em 7%. O design normal da tampa do laptop pode bloquear o fluxo de ar para fora do chassi, o que poderia, em alguns casos, causar superaquecimento. A tampa de corte trapezoidal patenteada melhora a eficiência térmica em até 27% em relação aos projetos tradicionais.
O aplicativo Overboost, acessível ao pressionar FN + F5 ou pela tecla de atalho do Gaming Center, pode ser usado para selecionar três configurações de ventilação diferentes. O Fan Overboost fornece a velocidade mais rápida do ventilador para explorar completamente o poder do Strix SCAR II e do Hero II durante jogos intensos. O modo silencioso reduz a velocidade do ventilador e o consumo de energia para tarefas menos exigentes. Um modo balanceado proporciona um desempenho estável do ventilador em um nível de ruído moderado.
Áudio mais claro e mais alto
Ambos os notebooks oferecem áudio mais claro, mais alto e mais preciso através de poderosos alto-falantes laterais que fornecem som imersivo. A tecnologia do amplificador inteligente monitora a saída de áudio e faz ajustes em tempo real, com faixa dinâmica e graves aumentados. O Sonic Studio III oferece áudio de alta qualidade no jogo, som surround para fones de ouvido, bem como streaming e gravação de áudio aprimorado para captação de voz e redução de ruídos.
DISPONIBILIDADE
Não há previsão de lançamento dos notebooks ROG Strix SCAR II e Strix Hero II no Brasil.
ESPECIFICAÇÕES
ROG Strix SCAR II (GL504GM / GL504GS)
ROG Strix Hero II (GL504GM)
Processador
8th Gen Intel® Core™ i7-8750H

8th Gen Intel® Core™ i5-8300H

8th Gen Intel® Core™ i7-8750H

8th Gen Intel® Core™ i5-8300H

Sistema operacional
Windows 10 Home

Windows 10 Pro

Windows 10 Home

Windows 10 Pro

Tela
15.6″ IPS-level FHD (1920 x 1080) painel com taxa de atualização de 144Hz, tempo de resposta de 3ms GTG, gama de cores 100% sRGB, e revestimento anti-reflexo
15.6″ IPS-level FHD (1920 x 1080) painel com taxa de atualização de 144Hz, tempo de resposta de 3ms GTG, gama de cores 100% sRGB, e revestimento anti-reflexo

15.6″ IPS-level FHD (1920 x 1080) painel com taxa de atualização de 60Hz, tempo de resposta de 3ms GTG, gama de cores 100% sRGB, e revestimento anti-reflexo

Gráficos
GL504GM:

NVIDIA® GeForce® GTX 1060 com 6GB GDDR5 VRAM

GL504GS:

NVIDIA® GeForce® GTX 1070 com 8GB GDDR5 VRAM

NVIDIA® GeForce® GTX 1060 com 6GB GDDR5 VRAM
Memória
Até 32GB DDR4 2666MHz SDRAM (canal duplo)
Até 32GB DDR4 2666MHz SDRAM (canal duplo)
Armazenamento 
M.2 NVMe PCIe® 128GB / 256GB / 512GB SSD

2.5" 5400rpm 1TB SSHD

2.5" 5400rpm / 7200rpm 1TB HDD

M.2 NVMe PCIe® 128GB / 256GB / 512GB SSD

2.5" 5400rpm 1TB SSHD

2.5" 5400rpm / 7200rpm 1TB HDD

Wireless
802.11ac 2×2 Wave 2 Wi-Fi

Bluetooth® 5.0

802.11ac 2×2 Wave 2 W-Fi

Bluetooth® 5.0

Conectividade
1 x USB 3.1 Gen 2 Type-C™ (USB-C™)

2 x USB 3.1 Gen 1

1 x USB 3.1 Gen 2

1 x mini DisplayPort 1.2

1 x HDMI 2.0

1 x RJ-45 jack

1 x SD leitor de cartão

1 x 3.5mm conector combinado de fone de ouvido e microfone

1 x Kensington lock

1 x USB 3.1 Gen 2 Type-C™ (USB-C™)

2 x USB 3.1 Gen 1

1 x USB 3.1 Gen 2

1 x mini DisplayPort 1.2

1 x HDMI 2.0

1 x RJ-45 jack

1 x SD leitor de cartão

1 x 3.5mm conector combinado de fone de ouvido e microfone

1 x Kensington lock

Teclado
Teclado chiclete retroiluminado

RGB através de quatro zonas, com suporte Aura Sync

Teclas WASD marcadas

Hot keys: Volume up / Volume down / Mute /  ROG Gaming Center

1.8mm distância da viagem

0.25mm curso da tecla

Teclado chiclete retroiluminado

RGB através de quatro zonas, com suporte Aura Sync

Tecla QWER marcadas

Hot keys: Volume up / Volume down / Mute /  ROG Gaming Center

1.8mm distância da viagem

0.25mm curso da tecla

Áudio
2x 3.5W alto-falantes com tecnologia de amplificador inteligente

Microfone de matriz

2 x 3.5W alto-falantes com tecnologia de amplificador inteligente

Microfone de matriz

Software
ROG Gaming Center 2.5

ROG GameFirst V

ASUS Splendid

ASUS Sonic Studio & Sonic Radar III

ASUS Aura Core 2.5

XSplit Gamecaster (livre)

Android™ / iOS app

ROG Gaming Center 2.5

ROG GameFirst V

ASUS Splendid

ASUS Sonic Studio & Sonic Radar III

ASUS Aura Core 2.5

XSplit Gamecaster (livre)

Android™ / iOS app

VR Ready
Sim
Sim
Windows Mixed Reality
Básico (mínimo 8GB RAM requerido)
Básico (mínimo 8GB RAM requerido)
Potência
GL504GM:

180W adaptador de energia

GL504GS:

230W adaptador de energia

180W adaptador de energia

Tamanho
36.1 x 26.2 x 2.61cm
36.1 x 26.2 x 2.61cm
Peso
2.4kg
2.4kg