Segredos escondidos do YouTube [ EASTER EGGS ]
269 total views, 0 views today
Você fica quantas horas por dia online no Youtube ? Não sei vocês mas eu fico o dia todo, o site realmente é muito bacana e tem de tudo, tem até mesmo oque você nunca imaginou que tivesse, você sabia por exemplo que o YouTube tem vários segredos escondidos dentro do site!
São esses segredos que iremos revelar para vocês em mais um artigo aqui do nosso site, lembrando que o vídeo completo você encontra no final desse artigo, não esquece de conferir está imperdível!
1 – WebDrive torso
Digite na barra de buscas do Youtube WebDrive torso, a ideia do canal é testar a qualidade dos vídeos enviados para o YouTube: quando um arquivo é adicionado ao Webdriver Torso, é feita uma comparação com o original, para garantir que não haja nenhuma perda.
2 – Do the Harlem Shake
Quem não se lembra da febre que foi o "Harlem Shake" ele ganhou uma página exclusiva. De novo a barra de busca é o nosso caminho: Digite "Do the Harlem Shake" e aperte enter. Acompanhe a página dançar e requebrar de acordo com a batida da música!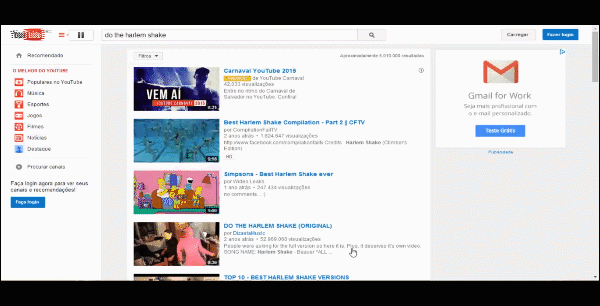 3 – Doge Meme
O focinho do cachorrinho é conhecido por toda parte.Digite "Doge Meme" na barrinha de buscas e você vai se deparar com isso!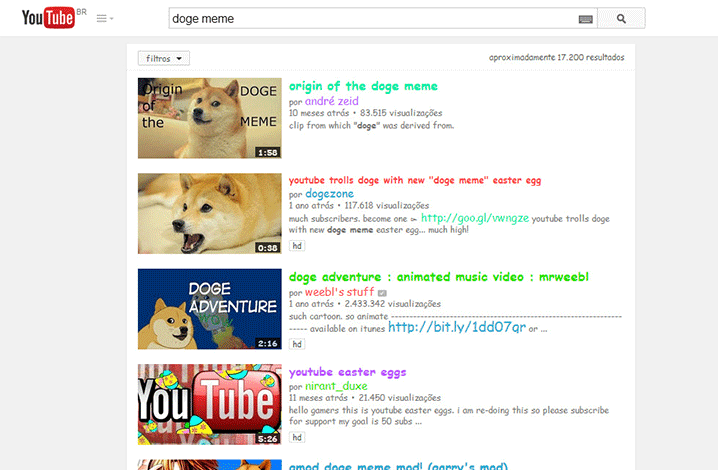 4 – Beam me up Scotty
Digite na barra de buscas do Youtube "Beam me up Scotty" para ver os resultados da busca serem teletransportados para a tela do seu computador. A frase ficou conhecida na série Star Trek, por ser dita pelo Capitão Kirk quando desejava que Montgomery Scotty o teletransportasse de volta para a Starship Enterprise.

5 – Use the Force Luke
Basta digitar na barra de buscas do YouTube a frase "Use the force Luke". A frase faz referência aos filmes da série Star Wars, você pode controlar os movimentos da página com a força de sua mente ou com movimentos do seu mouse.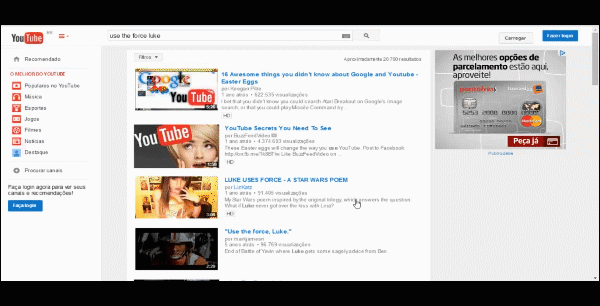 6 – Robots
Digite na pesquisa do seu navegador http://www.youtube.com/robots.txt e tenha acesso a um texto escrito por robôs, no longínquo ano 2000, logo após uma revolta de robôs, que nos anos 90, dizimou toda a raça humana.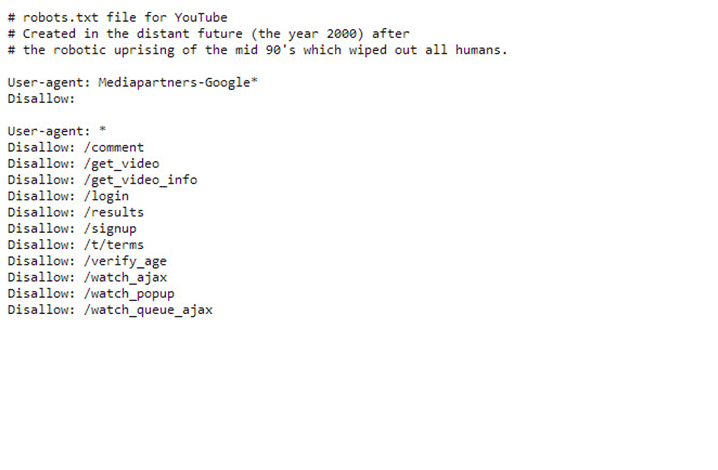 Conheça os três novos aplicativos de fotografia experimentais da Google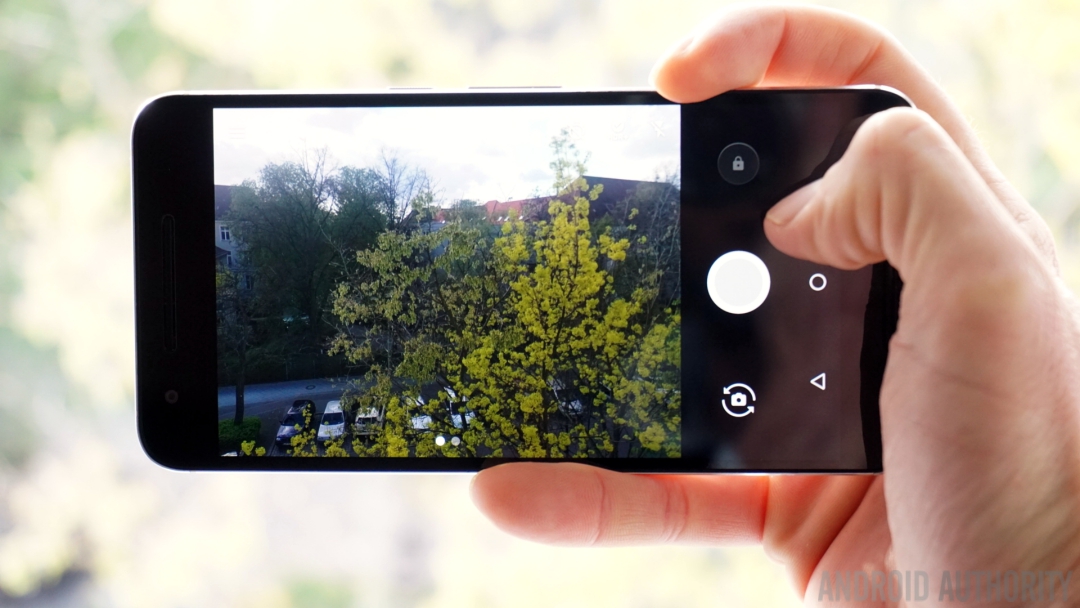 63,740 total views, 0 views today
Recentemente a Google acabou de revelar uma nova série de aplicativos experimentais de fotografia desenvolvido pelo mesmo com o conceito appsperiments:
O que é isso??
São apps que não contam com a garantia de manter seu desenvolvimento, mas ao mesmo tempo servirão como uma ideia diferente que poderão ser implementadas em serviços da Google ou ganhar seu próprio app dedicado.
Lembrando que os downloads dos apps estarão no final deste artigo, tudo em ordem de acordo com o artigo.
Em nota, o Google anuncia:
"Hoje estamos lançando nossa primeira leva de uma série de appsperiments de fotografia: experiencias fotográficas uteis e utilizáveis feitas com tecnologia experimental. Storyboard, Selfissimo! e Scrubbies contam com reconhecimento de objeto, segmentação de pessoas, sintetização de algoritmos, codificação de imagem eficiente e tecnologias decodificáveis, e talvez o mais importante, diversão!"
Veja agora quais são esses três novos aplicativos.
Storyboard
O primeiro app trata-se do Storyboard, mas está apenas disponível no Android, este aplicativo permite que você crie uma pequena história em quadrinhos utilizando um vídeo. Você só precisa gravar um vídeo e enviá-lo para o aplicativo que ele selecionará automaticamente quais os momentos mais interessantes do vídeo e organizará em uma ordem específica. São seis estilos de quadrinhos disponíveis inicialmente. E segundo a Google, são mais de 1.6 trilhão de possibilidades diferentes.
Selfissimo!
O segundo app trata-se do incrível Selfissimo!, este está disponível tanto para iOS como para Android. Ele é um aplicativo mais focado em fotografar no estilo preto e branco. Ao tocar na tela, uma série de palavras motivadoras e frases de efeito são mostradas na tela para você se sentir o máximo e posar para a câmera. Para finalizar a sessão de fotos, basta tocar mais uma vez na tela.
Scrubbies
Nosso terceiro e último app é o Scrubbies, infelizmente o único dentre esses três aplicativos da Google que não está disponível no sistema operacional Android, apenas no iOS. O app Scrubbies lhe permite manipular a gravação de vídeo que acabou de realizar.
Assim você pode alterar velocidade, repetir os frames e também a direção do vídeo para criar algo único e até mesmo remixá-lo.
Como ressaltamos, o app está apenas disponível para o sistema iOS, mas quem sabe, no futuro, ganhe uma versão para o nosso querido Android?
Resta-nos aguardamos para ver se há possibilidade de fazê-lo para o Android, se fizerem, postaremos aqui em nosso site. Portanto, fique de olho aqui no site 😉
Segue os links para downloads dos apps abaixo:
Este artigo foi útil para você? Se sim, não esqueça de deixar seu comentário, compratilhar para seus amigos e, quem sabe,
me seguir no Insta: @FabioRodriguesBarroso