Diminua o Ping de jogos online
3,902 total views, 9 views today
Aprenda como diminuir o lag nos jogos online e a latência. Neste tutorial iremos explicar como diminuir o ping dos jogos online no Windows. Jogar online, seja sozinho, contra desconhecidos ou com os amigos, sem dúvida é a melhor e mais divertida maneira hoje em dia. Mas infelizmente essa experiência pode ser arruinada devido a péssima qualidade de conexão, longas distancias ou outros fatores.
O Ping nada mais é do que uma medida de quanto tempo um pacote de dados demora para ser enviado do seu computador, recebido no servidor e novamente baixado para o seu computador. Portanto, é a distância dada em tempo. Por exemplo, um ping de 40 ms significa que é cada comando que você enviar para o servidor (andar, atirar, soltar magia) demora 40ms para ser executado e exibido na tela do seu computador.
FUNCIONAMENTO DO PROGRAMA
Leatrix Latency Fix é grátis e funciona no Windows 7, Vista e XP. Compatível com todos os jogos online, sendo que você vai ver uma significativa melhora nos jogos de tiro como Call of Duty, Team Fortress, Counter Strike, Diablo 3, World of Warcraft, entre outros. Teste e compartilhe conosco o resultado.
Ele automaticamente faz duas mudanças no protocolo de TCP do Windows, o TCPAckFrequency, que aumenta a velocidade de contato com o servidor e porntato você vai verificar uma melhora notável em todos os jogos que fazem uso da conexão e precisam de rápida resposta. Não precisa nem de tutorial para instalar esse programa, simplesmente descompacte o arquivo e clique em Install. Após clicar no botão, reinicie o computador e pronto! Agora é só testar e jogar online.
Faça download dos arquivos necessários abaixo, e não esqueça de conferir o tutorial de configuração disso tudo no final do artigo, está imperdível!
Como editar suas fotos profissionalmente com o Fotophire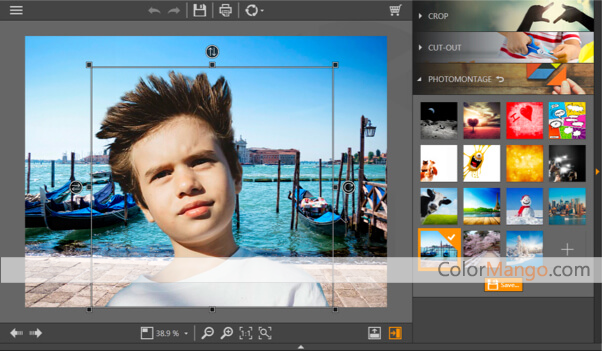 181 total views, 176 views today
Editar fotos pelo Photoshop próprio para PC, pode ser uma coisa bem difícil para quem não tem entendimento sobre a ferramenta.
Não é todo mundo que tem o conhecimento necessário para a edição que deseja, e pensando nisso,
nós do Teteu Tutors traremos à vocês uma maneira mais simples e bem fácil de se editar uma foto profissionalmente e que nem precisa de tanto conhecimento na área.
Quer ver como é ?
Vamos lá 😉
Passo 1: Você precisará baixar o Fotophire clicando no botão de download abaixo:

NOTA: Ao instalar o programa em seu PC, abra-o e você vai se deparar com essa tela.
Nela está disponível a opção "Photo Editor", mas caso queira somente ferramentas como corte de imagem,
remover objetos, o link para todos estarão no final deste artigo:
Passo 2: Clique no "Photo Editor" e ao abrir você pode escolher pelas fotos para testes
ou até mesmo abrir uma nova imagem do seu computador. Escolha a foto de sua preferência e ao começar a editar,
verá que podes adicionar filtros à imagem, ajustar brilho, contrastes caso o filtro desejado esteja muito forte ou fraco demais e muito mais:
Passo 3: Se quiser Cortar o fundo de alguma imagem, selecione a opção
"Photo Cutter" (ao abrir o programa) e escolha a imagem desejada.
Para remover o fundo desejado vá até "Conforme" e em "Marcas as zonas a eliminar" e
deixe o pincel no tamanho 40% e faça um risco no lado esquerdo e no lado direito para que o
programa possa identificar qual é o fundo da sua foto.
Depois disso, vá até "Foto Montagem" e pode definir outros fundos à sua imagem ou adicionar um fundo já salvo de seu PC:
Passo 4: Se quiser remover algum objeto, selecione a opção "Photo Eraser" (ao abrir o programa) e escolha a imagem desejada.
Para remover o objeto selecione a opção "Clone" e o pincel deixe em +/- 140px pois no exemplo usado,
o pássaro tem mais ou menos 140px e o pincel tem que contornar o objeto por completo, e "desfocagem do contorno" 30% e por último marque a "Fonte de duplicação".
Para remover o pássaro dessa imagem, é preciso agora alinhar a divisão do mar para o céu e
coloque por cima do pássaro e para finalizar clique em "terminar":
Passo 5: Para salvar, imprimir ou compartilhar em seu Facebook, basta selecionar uma das opções desejadas
como na imagem abaixo que estão no topo do programa:
Links Recomendados:
➥Editar fotos: https://goo.gl/KGscn8
➥Trocar o fundo da foto: https://goo.gl/WpHJU8
➥Apagar objetos da foto: https://goo.gl/uTVvim
➥Como usar o Fotophire: https://goo.gl/RCSqfx
Gostou desta dica? Não se esqueça de comentar, compartilhar e me seguir lá no
Insta: @FabioRodriguesBarroso 😉