Como criar GIF online sem baixar nada
1,103 total views, 0 views today
Nos últimos dias os GIFS animados viraram uma febre nas redes sociais, muitas pessoas buscam criar GIFS animadas com isso surgiram tambem muitas sites que tem o objetivo de criar GIFS pelo seu navegador sem precisar baixar nada. Confira agora uma lista com 5 sites para criar GIFS na internet.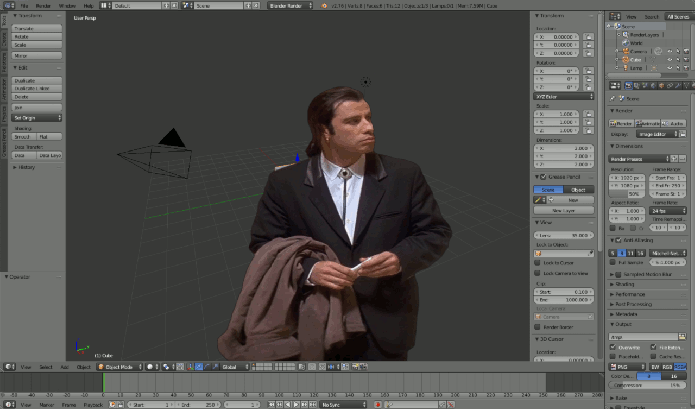 Se você quer fazer um GIF animado por meio de um vídeo do YouTube, saiba que é perfeitamente possível. O YouTube to GIF é um site extremamente simples de ser usado e que tem a capacidade de transformar vídeos do YouTube em imagens GIFs.
Para usá-lo, basta copiar a URL do vídeo que você deseja transformar em GIF e colar no espaço dedicado dentro do site. Depois clique em "Load Vídeo" e, após o vídeo ser carregado, defina o minuto em que o GIF começa, quanto tempo deseja que ele dure. Por fim, clique em "Create GIF".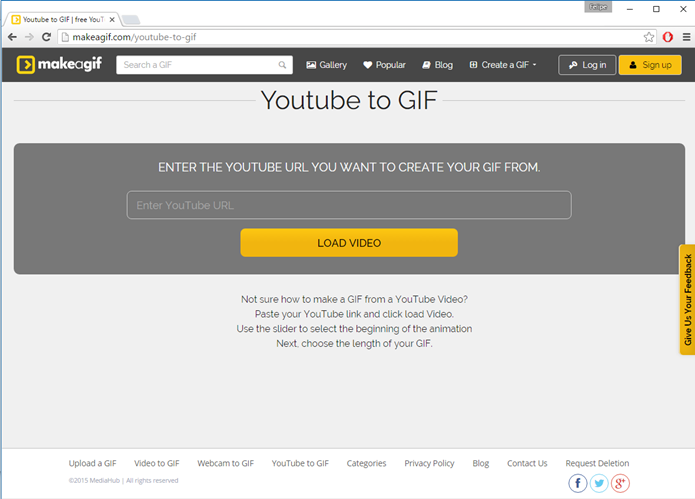 2. GIF Creator
O Gif Creator é site GIF Maker e GIF editor. O primeiro passo para usar o GIFCreator é fazer o upload das imagens a serem usadas. Você pode upar, no máximo, 200 imagens.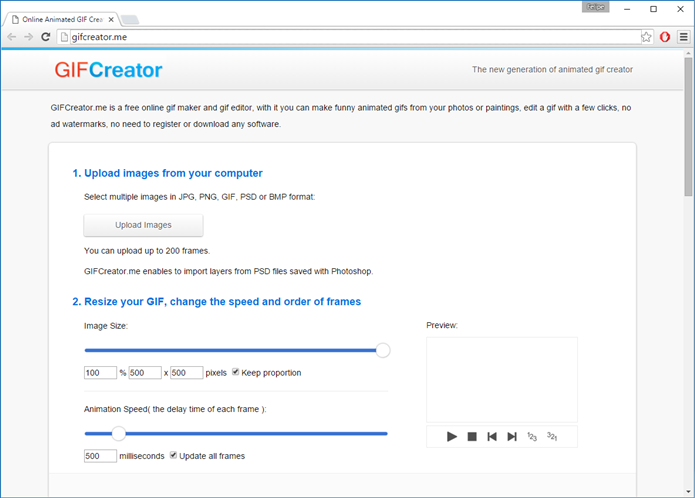 Depois você define o tamanho das imagens em pixels, a velocidade da animação e ver uma prévia por meio de uma janela ao lado. Para finalizar, basta clicar em "Create GIF Animation" para em dentro de poucos segundos ter um GIF para chamar de seu.
3. GifMe
O GifMe é uma extensão para ser usada no navegador Google Chrome. Após instalar no navegador, quando você ver algum vídeo engraçado na internet e quiser transformar em GIF, clique com o botão direito do mouse no vídeo e no menu de contexto clique em Gif Me.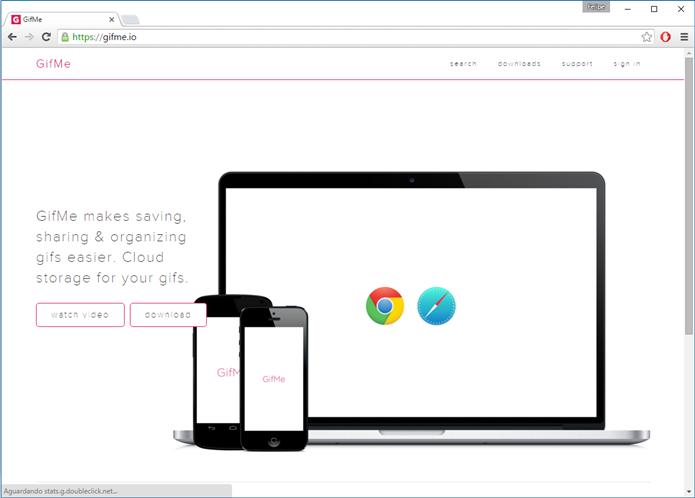 A partir daí, é só definir os parâmetros, as tags e salvar o seu GIF animado para compartilhar no Facebook ou Tumblr. Se quiser, também pode pesquisar por outros GIFs na ferramenta, usando as palavras-chaves.
4. Gifpal
O site Gifpal é um gif maker bem completo. Ele permite que você ajuste certos parâmetros, como brilho, contraste e adição de efeitos interessantes. Você também pode colocar texto em seus GIFs animados. O site ainda permite que você controle cada frame do GIF da maneira que achar melhor.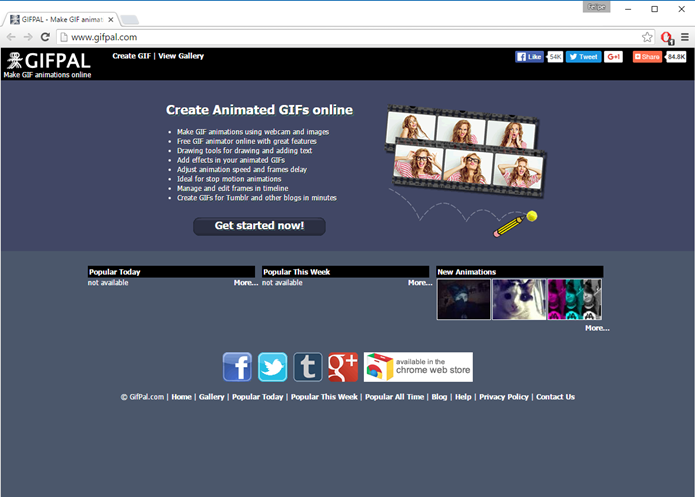 5. IMGFLIP
A grande vantagem do IMGFLIP é poder criar GIFs tanto a partir de vídeos do YouTube quanto por imagens e vídeos de seu computador. O processo para se criar um GIF a partir de um vídeo do YouTube é o mesmo do YouTube to GIF.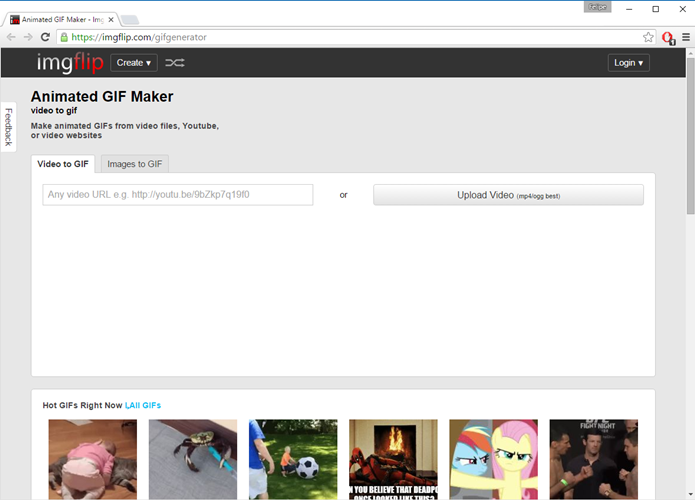 Você também pode upar vídeos armazenados em seu computador, tais como vídeos de família ou da última viagem para criar GIFs engraçados. O mesmo ocorre com as imagens, que devem ser upadas direto do seu PC para o site.
Bom galera esses foi os 5 melhores sites para criar uma animação GIF online sem precisar baixar nada, se você gostou desse dica de hoje compartilha com seus amigos e mostra a eles como ficou fácil agora criar uma animação GIF.
Conheça os três novos aplicativos de fotografia experimentais da Google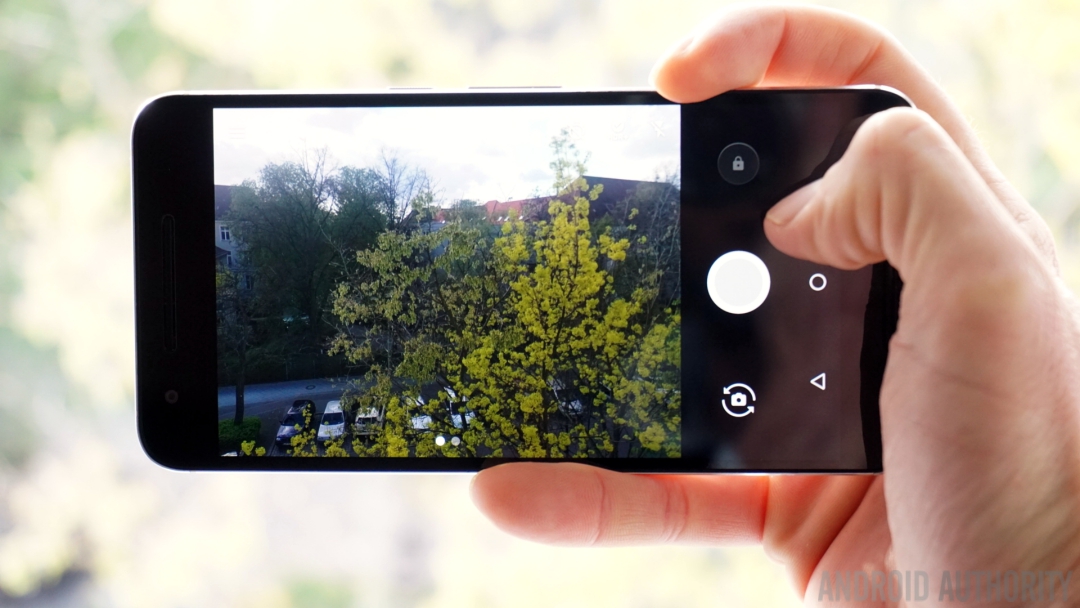 64,390 total views, 0 views today
Recentemente a Google acabou de revelar uma nova série de aplicativos experimentais de fotografia desenvolvido pelo mesmo com o conceito appsperiments:
O que é isso??
São apps que não contam com a garantia de manter seu desenvolvimento, mas ao mesmo tempo servirão como uma ideia diferente que poderão ser implementadas em serviços da Google ou ganhar seu próprio app dedicado.
Lembrando que os downloads dos apps estarão no final deste artigo, tudo em ordem de acordo com o artigo.
Em nota, o Google anuncia:
"Hoje estamos lançando nossa primeira leva de uma série de appsperiments de fotografia: experiencias fotográficas uteis e utilizáveis feitas com tecnologia experimental. Storyboard, Selfissimo! e Scrubbies contam com reconhecimento de objeto, segmentação de pessoas, sintetização de algoritmos, codificação de imagem eficiente e tecnologias decodificáveis, e talvez o mais importante, diversão!"
Veja agora quais são esses três novos aplicativos.
Storyboard
O primeiro app trata-se do Storyboard, mas está apenas disponível no Android, este aplicativo permite que você crie uma pequena história em quadrinhos utilizando um vídeo. Você só precisa gravar um vídeo e enviá-lo para o aplicativo que ele selecionará automaticamente quais os momentos mais interessantes do vídeo e organizará em uma ordem específica. São seis estilos de quadrinhos disponíveis inicialmente. E segundo a Google, são mais de 1.6 trilhão de possibilidades diferentes.
Selfissimo!
O segundo app trata-se do incrível Selfissimo!, este está disponível tanto para iOS como para Android. Ele é um aplicativo mais focado em fotografar no estilo preto e branco. Ao tocar na tela, uma série de palavras motivadoras e frases de efeito são mostradas na tela para você se sentir o máximo e posar para a câmera. Para finalizar a sessão de fotos, basta tocar mais uma vez na tela.
Scrubbies
Nosso terceiro e último app é o Scrubbies, infelizmente o único dentre esses três aplicativos da Google que não está disponível no sistema operacional Android, apenas no iOS. O app Scrubbies lhe permite manipular a gravação de vídeo que acabou de realizar.
Assim você pode alterar velocidade, repetir os frames e também a direção do vídeo para criar algo único e até mesmo remixá-lo.
Como ressaltamos, o app está apenas disponível para o sistema iOS, mas quem sabe, no futuro, ganhe uma versão para o nosso querido Android?
Resta-nos aguardamos para ver se há possibilidade de fazê-lo para o Android, se fizerem, postaremos aqui em nosso site. Portanto, fique de olho aqui no site 😉
Segue os links para downloads dos apps abaixo:
Este artigo foi útil para você? Se sim, não esqueça de deixar seu comentário, compratilhar para seus amigos e, quem sabe,
me seguir no Insta: @FabioRodriguesBarroso